Robert Pearlman
Editor

Posts: 42990
From: Houston, TX
Registered: Nov 1999

posted 10-27-2018 11:45 PM




---
NASA's Mars 2020 rover mission patch

The Mars 2020 rover is being designed to seek signs of past life on Mars, collect and store a set of soil and rock samples that could be returned to Earth in the future, and test new technology to benefit future robotic and human exploration of Mars.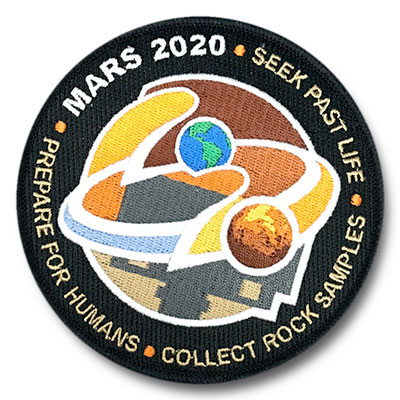 The Mars 2020 mission patch is available from the Jet Propulsion Laboratory store.
Paul J. Brennan
Member

Posts: 98
From: Linden, CA
Registered: May 2019

posted 01-02-2020 03:12 PM




---
A new Mars 2020 logo/patch:
https://thejplstore.com/search.asp?pg=1&stext=patch&sprice=&stype=&scat=

Just purchased one off of the store site. Even though they're only $1.50 ea., with tax and shipping the total came out to $10.18!