Rocketman!
Member

Posts: 90
From: Redmond, Washington, USA
Registered: Dec 2007

posted 12-04-2017 03:15 PM




---
The National Association of Rocketry (NAR) asked me to create a logo for use in their "Pay Forward Proud" fundraising campaign. The design was inspired primarily by the classic Apollo project insignia. The logo also includes a subtly hidden visual reference to the NAR 60th anniversary, which was founded in 1957 by Orville Carlisle and G. Harry Stine. The logo appears on the NAR website, as well as the NAR Collection Twitter page. One of the rewards being offered to donors is a canvas print of the logo.

The design features the prominent red NAR delta logo, which is a registered trademark of the association and is used with permission.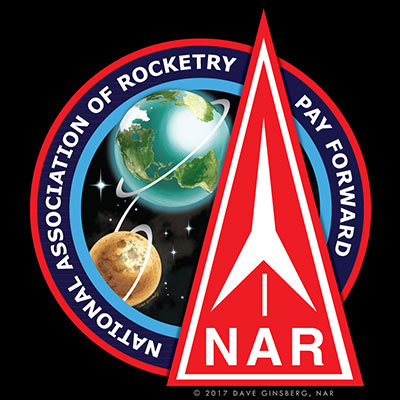 Copyright 2017 Dave Ginsberg, NAR
The Design
When discussing the logo design with the NAR, they expressed interest in seeing ideas that recalled the classic mission patches of the Apollo program. I offered several alternative approaches, and the design they were attracted to referenced the Apollo project insignia. I took the concept a step further by borrowing the look of period space illustrations and children's science books.
One more desire on the part of the NAR was to incorporate a secret hidden design element similar to those incorporated into some of the Apollo patches. I included a reference to the founding of the NAR sixty years prior to the creation of this design. It shouldn't be difficult to find, but in case you want help, head over to the post on my website. It is there you will also find a few of the Apollo era illustrations from which I took inspiration.