Robert Pearlman
Editor

Posts: 41157
From: Houston, TX
Registered: Nov 1999

posted 07-04-2014 10:37 AM




---
Sometime in the mid-1980s, Kellogg's offered a framed set of "Official NASA Space Shuttle Patches," including 11 mission patches and the space shuttle program logo.

The patches are each three inches diameter and include (from top left to bottom right): STS-41C, Program logo, STS-5, STS-7, STS-6, STS-3, STS-2, STS-41D, STS-8, STS-41G, STS-41B and STS-9.

The 24 by 18 inch frame came with a full-color, two-sided flyer identifying each of the patches.

Does anyone know more about the history behind this particular set? How was it offered? Was it a side of the cereal box offer?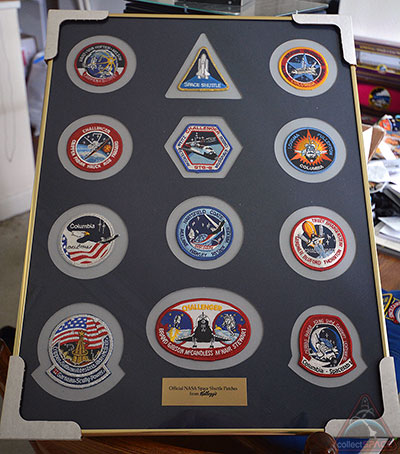 SparkR_13
Member

Posts: 97
From: Martinsburg, WV 25401, USA
Registered: Dec 2010

posted 03-10-2019 10:04 AM




---
Inquiring about followup to this story? Anyone have any knowledge of these Kellogg patch sets?