Besixdouze
Member

Posts: 198
From: Hebden Bridge, West Yorkshire, United Kingdom
Registered: Jan 2011

posted 01-28-2013 03:21 PM




---
Anybody know anything of the history of these patches? (eBay item no: 221183189260)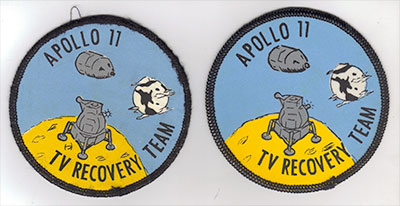 Liembo
Member

Posts: 242
From: Bothell, WA
Registered: Jan 2013

posted 02-02-2013 05:26 PM




---
Wait til the auction is over for an answer, no one wants to show their hand.

Besixdouze
Member

Posts: 198
From: Hebden Bridge, West Yorkshire, United Kingdom
Registered: Jan 2011

posted 02-03-2013 07:04 AM




---
Okay, did a little searching of my own based on the images on the listing. Seems that James J. O'Connor was a broadcast engineer with WOR Radio, Mutual Broadcasting and the BBC. He handled radio communications during the Gemini VI, Apollo and Skylab programs. He served for 30 years with the Navy MARS system and was known on ham radio as ''W2KGO.' Could well be him featured in the photo.

I'd hazard a guess that the patches were produced by and for the civilian TV and radio crews present at recovery time. RR Auctions sold an "Apollo 11 USS Hornet TV Recovery Team cap in September 2011, catalog 376 for $601.20.
Blue wool cap by Harvard Sports Headwear is embroidered "U.S.S. Hornet, Apollo 11," with a recovery team patch affixed to one side and embroidered American flag on the back of the cap. In fine condition, with normal wear.
Obviously then, a nice contemporary collection of Apollo 11 recovery memorabilia.