Expedition 27/28 flight engineer Ron Garan's personal patch: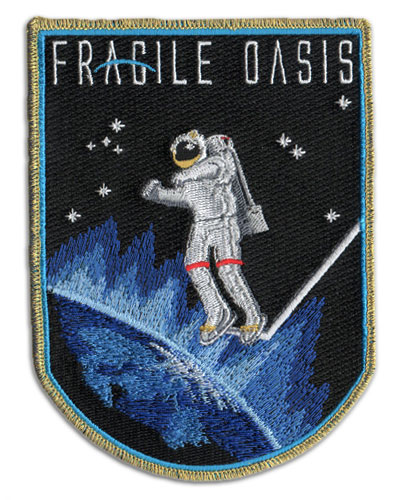 Credit: Fragile Oasis
In July 2010, Ron Garan introduced the Fragile Oasis website as an "innovative incubator project to explore new ways of using social media to help share our human spaceflight stories with you through the eyes of our astronauts."
Dedicated to using the unique perspective from orbit to "inspire people to improve life on our planet," the Fragile Oasis website now includes several astronaut participants, including Nicole Stott, Doug Wheelock and Don Pettit.
Prior to launching to the International Space Station on April 4, Garan shared with collectSPACE how he planned to represent Fragile Oasis on-orbit.
"I have a Fragile Oasis patch. [Artists] Tim Gagnon and Jorge Cartes designed it. I'm going to fly a few of the patches," Garan said in a pre-flight interview.
"Fragile Oasis is going to be a lot bigger than it is right now," added Garan. "Right now it is just a blog, but it is going to have an online community, an interactive map... we're trying to make it a really interactive site that will make a big difference, hopefully."
"Not just in outreach and telling the story of what we're doing on the space station, but hopefully make a big difference on planet Earth as well," he said.
Garan described the inspiration for the patch's design, as well as the website itself, in this excerpt from Fragile Oasis.
In June of 2008, I had the privilege to fly on board the Space Shuttle Discovery to the International Space Station. During the fourteen day mission, I was also privileged to conduct three spacewalks. On the last of the three space walks, I slid my feet under clamps on the end of the space station's robotic arm.
With me attached to the end of the arm, the arm was flown through a maneuver we called the "windshield wiper" which brought me across a big arc over the top of the space station and back. At the top of this arc, I was 100' above the space station with the Earth 250 miles below.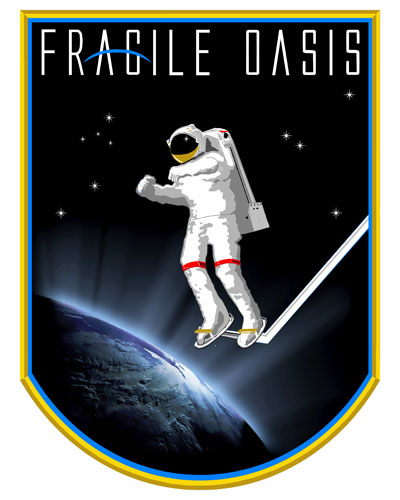 Credit: Fragile Oasis
It was absolutely incredible to see this enormous space station, the most complex structure ever built. Built by 16 diverse nations, all working together, to accomplish this tremendous achievement in orbit. To see this magnificent accomplishment of humanity against the backdrop of the indescribably beautiful Earth 250 miles below was breathtaking. At this moment I wasn't just looking down at the Earth but I was looking at a planet hanging in the blackness of space.
It was a very moving experience to see the absolute beauty of the planet we have been given. But as I looked down at this indescribably beautiful, fragile oasis, this island that has been given to us and has protected all life from the harshness of space, I couldn't help but to also think of all the inequity that exists on our fragile oasis.
I couldn't help but think of the people who don't have clean water to drink, enough food to eat, the social injustice, conflicts, and poverty that exists. It really was an amazingly stark contrast between the beauty of our planet and the unfortunate realities of life on our planet for many of its inhabitants.
This experience reaffirmed a belief that I held long before flying in space, that is, each and every one of us on this planet has the responsibility to leave it a little better than we found it. I want to devote this part of the website to recognizing those individuals and groups who look for opportunities to better their community and world and make life better for those with whom they share this fragile oasis.