The Italian Space Agency (Agenzia Spaziale Italiana)
announced
Oct. 7 the winners of its student competition to create a mission patch for Roberto Vittori's 2011 flight to the International Space Station.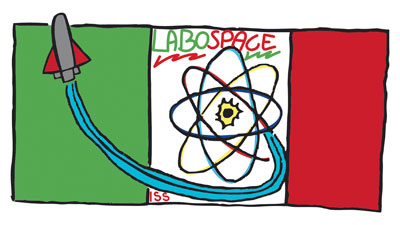 An award ceremony for the "Disegna e Designa" (Design and Design) contest was held at the Italian Ministry of Education, University and Research in Rome. The competition had been open to elementary and middle school students in Italy during the 2009-2010 year.
The students were challenged to come up with a name and logo for Vittori's STS-134 mission aboard space shuttle Endeavour. In addition to being Vittori's third trip to the station, a first by an Italian astronaut, the STS-134 mission will launch the Alpha Magnetic Spectrometer, a state-of-the-art particle physics detector that was constructed, tested and will be operated by an international team, including Italy.
First, second and third place designs were revealed. Details about the artists were not released.
The winning design uses the Italian flag as a backdrop for a simplified version of NASA's atom-shaped STS-134 mission insignia, amended by a space shuttle flying up and away from the emblem.
The student's proposed name for Vittori's mission, "LABOSPACE," is emblazoned across the top of the flag.