Robert Pearlman
Editor

Posts: 23493
From: Houston, TX
Registered: Nov 1999

posted July 14, 2010 09:39 PM




---
ISS Expedition 24/25 flight engineer Fyodor Yurchkhin has a personal patch, which can be seen affixed above his crew quarters.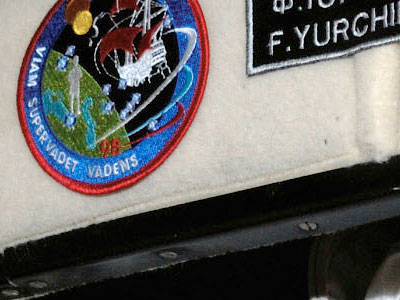 Credit: NASA [ISS024-E-006664]
For a close-up view of the complete embroidered patch, see Spacepatches.nl.
QuiGon Grin
Member

Posts: 19
From: Rutherford, NJ 07070
Registered: Apr 2010

posted July 18, 2010 11:16 AM



---
Anyone know what the symbolism behind the patch is yet?
hoorenz
Member

Posts: 536
From: The Netherlands
Registered: Jan 2003

posted July 18, 2010 12:57 PM




---
We received the design only six weeks before launch, so there was not a lot of time to get into the details.

I do remember though that the patch shows a young Fyodor, with one foot in his place of birth (Batumi, Georgia, at the border of the Black Sea). Another star symbolizes Moscow, where he followed part of his education (Moscow Aviation Institute). The 98 refers to 1998, the year he started cosmonaut training. Fyodor Yurchikin is a patch collector himself.