James913
Member

Posts: 265
From: Houston, TX
Registered: Oct 2004

posted 04-01-2010 11:00 AM




---
The payload/increment patch for STS-131 has been released (also below) and, as a footnote to NASA patch history, it is the second NASA patch to include Star Trek Klingon letters. These are the letters for 'WORF' - one of the ISS payload racks going up on STS-131 (the Window Observational Research Facility).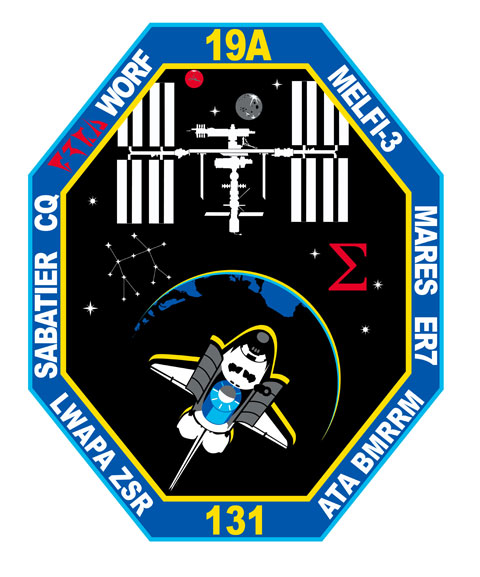 The increment patch reflects the letters I used in designing the first NASA patch with Klingon for the WORF payload project back in '01. Back then, I was part of the WORF design and development team at NASA Johnson Space Center, and spoke with Rick Berman's office in Hollywood to make certain that I wouldn't violate any Star Trek canon.
We agreed on the Klingon Klinshai, or Mandel, script that had appeared in The U.S.S. Enterprise Officer's Manual (no relation to the versions of spoken and phonetic Klingon out there) to spell out the name W-O-R-F.
After a lengthy delay following the Columbia accident, we're finally ready to launch. With any luck, late next week I'll have my art (via a WORF sticker on the front of the rack) on permanent display in a fairly exclusive orbital gallery.
In phonetic Klingon: DaHjaj 'oH [a] QaQ jaj Daq Puv! (Today is a good day to fly!)
— Tony Boatright   
Below: WORF art, patch and rack installed in the multi-purpose logistics module.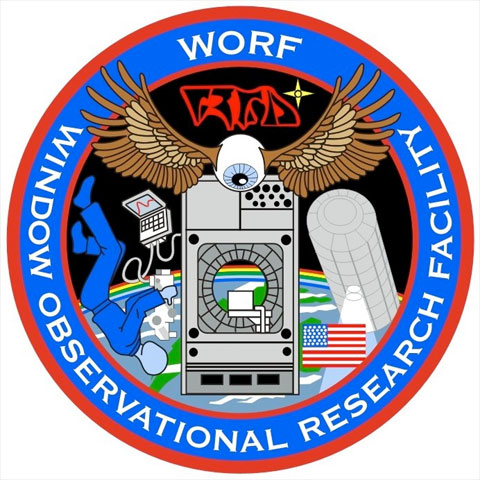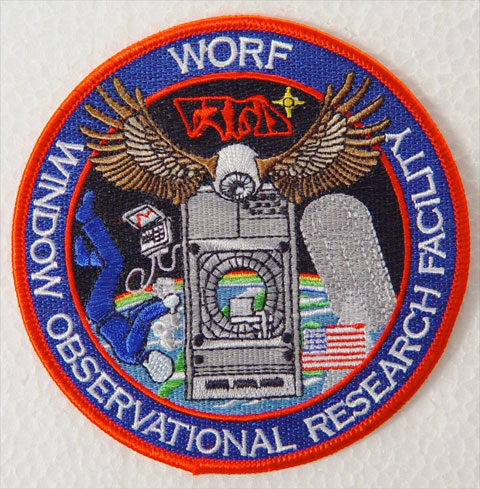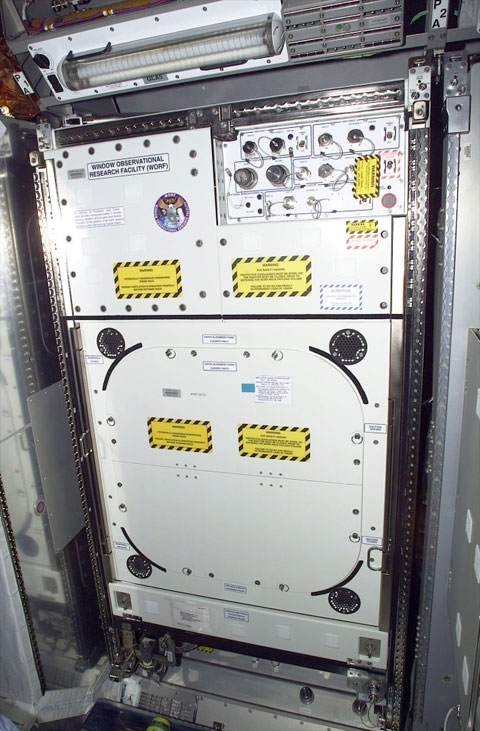 garymilgrom
Member

Posts: 1966
From: Atlanta, GA
Registered: Feb 2007

posted 04-01-2010 11:48 AM




---
I love the artwork but I'm confused - is this the second WORF to fly or is the WORF flying nine years late? And is this patch available for purchase somewhere?
Robert Pearlman
Editor

Posts: 42984
From: Houston, TX
Registered: Nov 1999

posted 04-01-2010 01:09 PM




---
This is the first (and only) flight for WORF, which is a rack that fits around and supports both manned and remotely-operated observations through the U.S. lab Destiny's science window.

WORF was originally manifested to fly on STS-114 in March 2003 prior to the loss of space shuttle Columbia.
James913
Member

Posts: 265
From: Houston, TX
Registered: Oct 2004

posted 04-09-2010 02:37 PM




---
Sorry for the delayed reply – I just returned from the WORF launch at KSC. Unfortunately, there aren't any huge hi-res versions of the patch art (as is common these days with the crew and increment patches) – this design was originally done back in the 2001-2002 timeframe and I did the original drawings by hand (gasp!), not computer. AB Emblem did make up a color master computer art version, which is shown above in this post. For anyone who would like a copy, the largest version of this art is available here.

If anyone is interested in the evolution of the design, a couple of the original sketches are here (click to enlarge):