7 Forty7
Member

Posts: 34
From:
Registered: Jan 2007

posted 09-16-2009 04:26 PM




---
Can anyone out there tell me if a patch/badge was ever designed for the Apollo 5 test flight of Lunar Module-1 (LM-1) on Jan. 22, 1968?
spaced out
Member

Posts: 3168
From: Paris, France
Registered: Aug 2003

posted 07-20-2021 04:31 AM




---
Through a chance contact I'm happy to say I've discovered the artist behind the famous Grumman LM-1/Apollo-5 patch.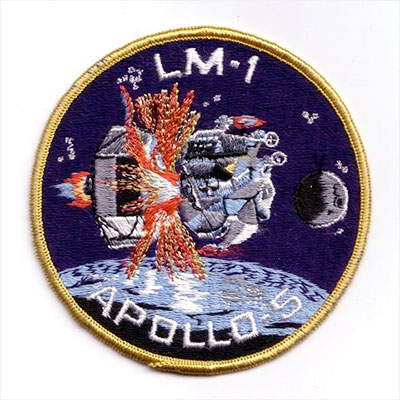 Working as an artist for Grumman at KSC, Richard Max Hinton was asked to produce a design for LM-1 to be used for a patch and created the artwork that we know today. He wasn't involved in the production of the patch but believes that it was created by the Grumman Procurement office and given out to employees working on the project at the site. I asked if he had a hand in any other patch designs but unfortunately he didn't design any others.
I've updated the LM-1 entry on my CrewPatches site to note him as the artist, and Gene Dorr has updated the artists page of his site to include a short biography.
I have to say I'm very happy to have discovered this, and especially to have found an artist that's still with us.