Robert Pearlman
Editor

Posts: 39058
From: Houston, TX
Registered: Nov 1999

posted 06-28-2009 05:54 PM




---
Although the Walt Disney Company has always offered collectible Disney pins in each of its parks, beginning in October 1999 they introduced "Disney Pin Trading."

Since then thousands of unique pins have been released, including some that have borrowed their theme or have been issued to mark events from space history.

Most recently, Disney had planned a series of five pins to commemorate the 40th anniversary of the first moon landing. Their release was unfortunately canceled but a set of pre-production examples was offered during a silent auction held at Epcot in Florida this past weekend.

A project manager for Disney Pin Trading who assembled the lots chose the Apollo 11 set as his favorite from the auction, according to the Disney Pin Trading website.
If I had to choose one I would select lot 11 - the 40th Anniversary of Apollo 11 Collection. I've always been a fan of outer space and I think those pins turned out great. It is too bad the program had to be canceled for a variety of reasons. I'm happy that someone will be able to add these pins to her or his collection. Who knows, maybe one day we will be trading Disney pins on the Moon.
The pins, as shown below, had Mickey Mouse, Donald Duck and Stitch in scenes representing different milestones of Apollo 11, from launch to splashdown.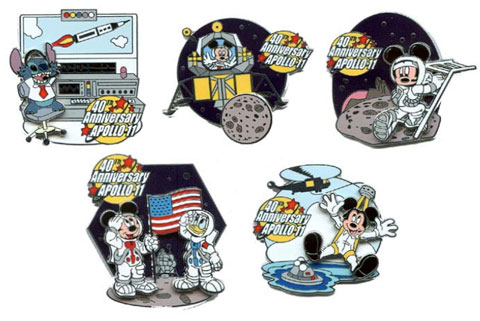 Apollo 11 - 40th Anniversary Collection

Where were you on July 20, 1969? Recall the historic journey of Apollo 11 with this 10 pin auction lot. This canceled Disney Pin collection celebrates the 40th Anniversary of the historic moon landing. The pins in this lot are pre-productions, each containing "PP" marks on their back stamps. If the collection would have been released, each pin would have had an edition size of 2000.
Robert Pearlman
Editor

Posts: 39058
From: Houston, TX
Registered: Nov 1999

posted 06-28-2009 06:04 PM




---
Here are some of the earlier space history/exploration-related Disney pins:
Labor Day 2006 (Stitch Astronaut)
Release Date: 8/31/06
Location: Disney Auctions
Edition Size: 100

Stitch's experience as an alien can't quite prepare him for a job as an astronaut on this hilarious, gold-finished character pin, a Disney Auctions exclusive in a limited edition of 100 oversize pins and one in a series celebrating Labor Day on the job with a few of Disney's most beloved characters.

Cruisin' Through Time - Artist Choice - Mickey Mouse Moon Landing
Release Date: 10/29/06
Location: Disney Cruise Line
Edition Size: 500

Mickey takes one giant leap in this Limited Edition pin. Mickey is a pin-on-pin and the command module is a slider. This pin measures approximately 1.75" tall by 1.85" wide. Steve Zollman from Disney Design Group created the artwork for this pin.

Pinbassador Inspirations - To Infinity and Beyond
Release Date: 08/10/08
Location: Disneyland Resort
Edition Size: 1000

This Limited Edition pin was inspired by Steven Miller, Project Manager for Disney Pin Trading at the Walt Disney World® Resort. Steven's design features Astronaut Mickey Mouse on an odyssey in space.

Regarding the design, Steven says, "Space flight would be the ultimate odyssey for me. Having landed on Mars in last year's pin, Mickey Mouse now journeys to the biggest planet in our solar system, Jupiter. As I'm no closer to becoming an astronaut this year, I can at least enjoy an 'out-of-this-world' experience on Space Mountain in the Tomorrowland Area."

Science & Industry - Figment in Space
Release Date: 06/26/09
Location: Walt Disney World Resort
Edition Size: 500

From the comfort of his spacecraft, "Jiminy," Figment journeys into the vastness of space in this limited edition pin. This pin includes a moveable element and measures approximately 1.75" tall by 1.75" wide.