Robert Pearlman
Editor

Posts: 23493
From: Houston, TX
Registered: Nov 1999

posted March 08, 2009 11:01 AM




---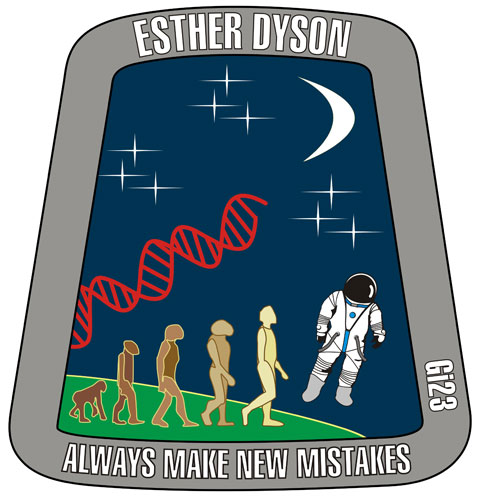 Esther Dyson, backup to Soyuz TMA-14 spaceflight participant Charles Simonyi, commented on her new personal patch through Twitter.
admiring my cosmonaut patch - designed by Gisela Giardino at gi23.com - or flickr.com/people/gi/ on flickr where I first met her
The insignia is described on Giardino's website:
The goal of the emblem is to mention DNA and space travel as two new frontiers, to picture the evolution of mankind to Space. The shape resembles the form of a landing capsule. Esther's motto "Always Make New Mistakes" gives closure to the concept by bestowing to it her own personal worldview.
The daughter of physicist Freeman Dyson, Esther Dyson is chairman of EDventure, which analyzes the impact of emerging technologies and markets on economies and societies. After 25 years editing the computer industry newsletter Release 1.0 and hosting PC Forum, she is now an active investor/board member for a variety of start-ups in IT, consumer-directed health care/genetics, and air and space travel.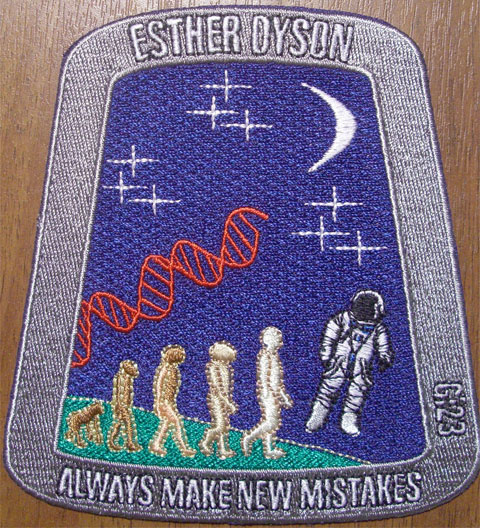 KAPTEC
Member

Posts: 406
From: Madrid, Spain
Registered: Oct 2005

posted March 08, 2009 01:57 PM




---
A very nice patch. Congrats.
lm5eagle
Member

Posts: 337
From:
Registered: Jul 2007

posted March 08, 2009 02:25 PM




---
A very appropriate patch at the time of the celebration of the 200th Anniversary of Darwin's Birth.