Jay Chladek
Member

Posts: 1566
From: Bellevue, NE, USA
Registered: Aug 2007

posted August 26, 2007 10:05 PM




---
I noticed in a couple pictures from STS-114 that the SAFER packs used on the EMUs for ISS construction have a rather large insignia on them. It looks like it has some sort of bird image on it.

So, first question, is there an online color image of that insignia? Secondly, is there a patch for it?
Robert Pearlman
Editor

Posts: 23493
From: Houston, TX
Registered: Nov 1999

posted August 26, 2007 10:19 PM




---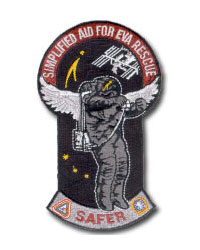 Countdown Enterprises was contracted by the SAFER project team to produce this patch.