This patch celebrates Canada's role in STS-118, the 22nd assembly mission of the International Space Station. It depicts Canadian Space Agency Astronaut Dr. Dave Williams installing the S5 truss segment to the backbone of the International Space Station. It marks his role as the only Canadian to perform three spacewalks in support of a human space mission.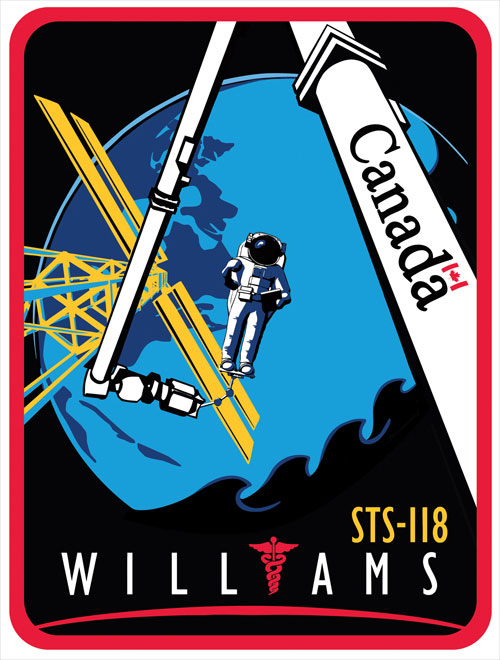 The Station's stylized solar arrays symbolize an infinite quest for knowledge through exploration. The inclusion of waves in the design, an ancient symbol of exploration, draws attention to the history of sea and space discovery while highlighting Dr. Williams' experience as the first Canadian to be both an astronaut and an aquanaut.
The STS-118 appears just above the MS in WILLIAMS to underscore his role as Mission Specialist. The caduceus, symbolizing medicine, appearing in Dr. Williams' name represents his pride in being a physician and his role as crew medical officer during the flight. This Canadian emblem was designed by Mustapha Kerouch, a Faculty of Engineering student at McGill University in Montreal.
About the artist
Mustapha Kerouch was born in 1986 in Algeria and his family came to Canada when he was nine. Apart from his love of science and engineering, he's passionate about literature and the arts. After attending high school at College Saint-Louis, he studied science at the College de Bois-de-Boulogne. Now at McGill University, he is finishing his second year in Mechanical Engineering.