sapper82
Member

Posts: 169
From: Canada
Registered: Dec 2000

posted 05-22-2001 10:28 AM




---
Does anyone know if there's a reference out there, website, etc. that show patches for the Titan and Delta ELV launches?
Jim Behling
Member

Posts: 1308
From: Cape Canaveral, FL
Registered: Mar 2010

posted 06-13-2012 05:14 PM




---
I have a large collection of Delta II and IV; Atlas I, II, III and V; Titan II, III/34D and IV; and Pegasus, Taurus and Minotaur patches. The collection is by no means complete due to rarity, affordability and lack of knowledge of the actual existence of some of these patches. Additionally, there may be more than one patch for each mission.

Usually, there is patch provided by the payload sponsor/contractor; sometimes, patch is provided by the launch vehicle contractor; and since the early 90's, Air Force organizations (launch squadrons or space wings) have been creating patches.

I have figured out one way to solve some of these "problems" by collecting scans or photos of these patches or even a decal representative of the patch. Anytime a patch comes on Ebay, I save a copy of the photo, in case I don't win the auction. I wish I had done this much earlier. I have also used Worthpoint to look for past action photos.

I was wondering if we can crowd source this to expand the database by trading and sharing patches/photos.

The file named "ELV Patch Compendium" is a summary of my patch database. The first page is an explanation of the data entries.

In the end, this is my ranking in order of desirability:
patch

patch image

decal of patch

decal of patch image

other mission representation in decal or image form.
I want the actual patch but will eventually settle for the others.
lucspace
Member

Posts: 365
From: Hilversum, The Netherlands
Registered: Oct 2003

posted 08-28-2018 07:01 AM




---
Atec exhibited an interesting poster showing numerous Atlas and Delta patches; are they all known?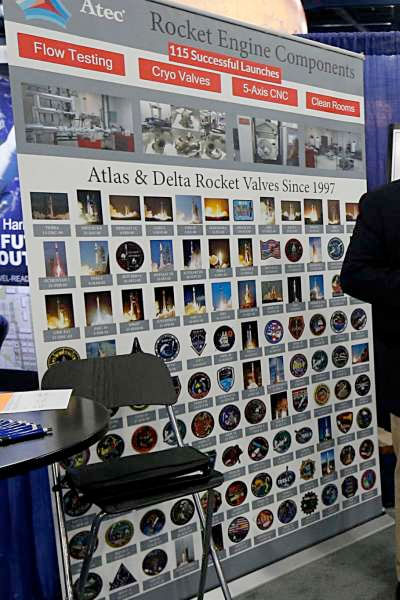 Jim Behling
Member

Posts: 1308
From: Cape Canaveral, FL
Registered: Mar 2010

posted 08-28-2018 08:12 AM




---
Since regular patches started with the Titan IV program, it was a common practice by 1997 for all missions. So the early patches of the Delta IV and Atlas V program are well known.