Rocketman!
Member

Posts: 96
From: Redmond, Washington, USA
Registered: Dec 2007

posted 02-12-2018 02:31 PM




---
One of my latest acquisitions is a 1:20 scale Apollo CSM/LEM model made by the Marshall Space Flight Center Graphic Engineering and Models Branch. It is an excellent model, very large and well built. It also ties back to the history of the Apollo program, and Apollo 13 in particular. A model like this one (or possibly this very model) was used during the post mission press conference for Apollo 13 held on April 21, 1970 in Houston. Jim Lovell made good use of the model while explaining how he and Fred Haise maneuvered the two joined spacecraft from the Lunar Module, as seen in this UPI photo published by Newsday.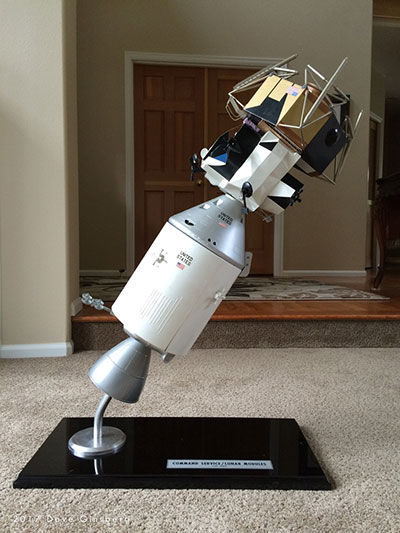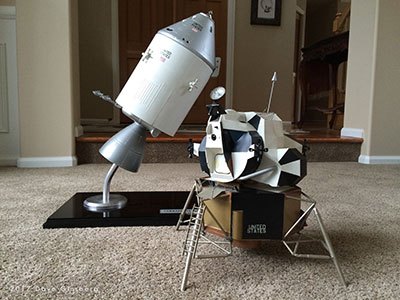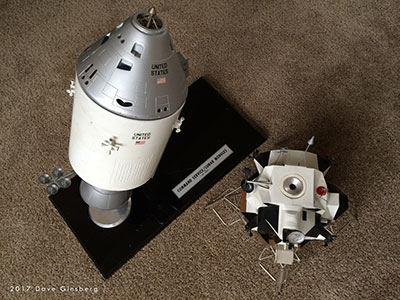 There are two relatively minor issues with the model that I would like to remedy, and I am reaching out to the cS community for some assistance. For both of these issues, I would like to know if anyone else has a model like this one that can be used as a reference.
The first issue, which you can see in the photos above, is that my model is missing the landing footpads. I am planning on reproducing a set of replacement footpads, and with the help of Michael Key (keymichael1855) I will be attempting to design my first 3D printed parts. Hat tip to Fred Karst (GACSpaceguy) for connecting me with Michael. I would like my replacement parts to be as close to the original model's design as possible, as opposed to emulating the actual flown hardware. In other words, they would reflect some simplification and artistic license on the part of the MSFC modeler. I have found several period photos of this model, but none are clear enough or are of high enough resolution from which to get a good sense of the actual shape of the footpads or show how they had attached to the landing legs. Do any cS readers have good photos or plans, or an identical model that could be used as a reference for replacing the footpads?
The second issue is that the connection between the LEM ascent and descent stages is loose enough to produce a gap and causes the two stages to be misaligned. I cannot see a way to tighten up the gap between the stages without first fully separating them. And, therein lies the basic problem... the internal mechanism to release the stages is inoperative and I cannot separate them. The connections between all of the separable parts of the model are very well engineered, but it seems that this particular joint may have become worn out or broken. If anyone can provide photos or a schematic diagram for how the internal attach/detach mechanism works it may help me with my attempt at repair.
As a side note, the way in which this model was engineered is very impressive. Each of stage connections is built in such a way as to hide them in plain sight. To detach the CM from the Service Module, for example, the umbilical cable tunnel serves as a lever which, when pulled away from the SM, disengages an internal latch. Similarly, the LEM front hatch, when pressed, serves as the latch release to undock the ascent stage from the Command Module. The CM probe is even a good approximation to the real one. The LEM descent stage release (the one that currently doesn't work) is a button built into a raised section on the side of the octagonal structure. The MSFC model builders included a detailed photographic guide to assembly/disassembly on the bottom of the base (shown below).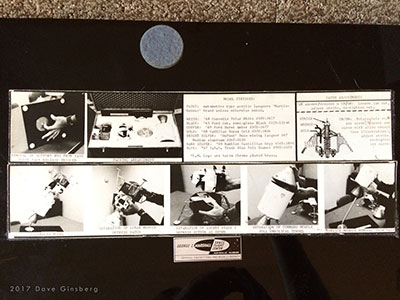 All things considered, I feel very fortunate to have been able to obtain this model. It ranks among the top in my collection. I would appreciate any help that can be offered to get this model back in "flight ready" condition.
Rocketman!
Member

Posts: 96
From: Redmond, Washington, USA
Registered: Dec 2007

posted 02-17-2018 04:13 PM




---
Thank you, Vincent. Your footpads look like they might be close to matching the style of the rest of the LEM model. They may need only minor modifications to the leg attachments to fit.

I'd like to give this thread a while longer to see if anyone can provide clear photos of an identical model's footpads. Then I may follow up with you to see about making the modifications and having a set printed.
Rocketman!
Member

Posts: 96
From: Redmond, Washington, USA
Registered: Dec 2007

posted 02-20-2018 12:30 PM




---
Thank you, Glenn! Those are outstanding shots. They will certainly help in the restoration. I've responded to your email with some additional questions.

Also, I now know there were at least three of these models made.