Pearson
New Member

Posts: 5
From:
Registered: Jul 2015

posted 08-24-2015 09:36 PM



---
Too bad Inflight200 didn't produce a nice 1/200 scale shuttle fleet. They produce some top quality desktop commercial airline models. I have three, two Boeing 777-300ER and one 787-8 Dreamliner and they are phenomenal!

Being an Ohioan and living 12 miles away from where Judith Resnik grew up, it would be great to have shuttle Challenger in my collection and to of made an diorama of what it would've looked like displayed in the National Museum of the U.S. Air Force.
cspg
Member

Posts: 5299
From: Geneva, Switzerland
Registered: May 2006

posted 05-13-2016 02:42 PM




---
Boeing B747-121 (NASA) N905NA with stand polished: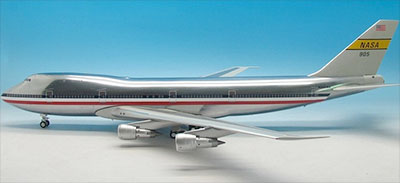 Scale: 1:200

Product ID: IF747NASA001P

Just found out about this model...