onesmallstep
Member

Posts: 508
From: Staten Island, New York USA
Registered: Nov 2007

posted 10-03-2012 04:53 PM




---
Just saw this at the local Toys 'R Us: Cars Space Mission Adventure with Moon Mater and DVD Set
from the Disney/Pixar 'Cars' movies.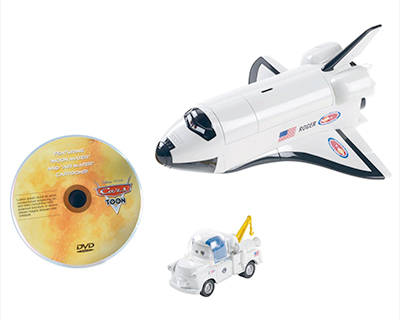 Inspired by the Disney/Pixar animated short, Moon Mater

Moon Mater and Roger Rocket are heading to the moon

Featuring real lights and sounds for added thrills

Bonus DVD includes both Moon Mater and Air Mater shorts
...for those who want to complete their shuttle collections.
p51
Member

Posts: 771
From: Olympia, WA, USA
Registered: Sep 2011

posted 10-03-2012 05:44 PM




---
I almost posted about this a few times. Maybe there willl be other space stuff with the movie, "Planes" coming out next year.

More on the animated short here, with photos: Moon Mater

I'm a fan of the Cars movies (I own a WW2 Jeep, so I collect anything with the "Sarge" character on it) and have almost bought this set more than once. I have, however, bought the astronaut Mater that you can get by itself and will likely get the tracking vehicle eventually. They have insignias for the car space agency, it'd be hilarious if they'd have patches made of them, that sure would confuse people just starting out in space collecting!
jeffbassett
Member

Posts: 95
From: Toledo
Registered: Feb 2005

posted 10-06-2012 08:06 AM




---
There is also a second set being sold through the Disney Store online.
Fans of the snaggle-toothed pick-up will enjoy out of this world fun with this Mater on the Moon Die Cast Set. Inspired by the Mater's Tall Tales episode, this detailed collectible set includes Moon Mater, Autonaut McQueen and Impala XIII.