Robert Pearlman
Editor

Posts: 27327
From: Houston, TX
Registered: Nov 1999

posted 11-19-2010 09:03 AM




---
The Ashland Gazette reports that astronaut Clay Anderson will appear at the Strategic Air and Space Museum in Nebraska on Saturday, Nov. 20 to sign a new ornament bearing his likeness.
Local artist Gene Roncka has created the second in a series of ornaments featuring local history past and present. The first ornament depicted Anderson's first space flight in 2007 on Shuttle Atlantis when he spent five months in space on the International Space Station. The inaugural ornament also featured pioneers traveling the Oxbow Trail to the Saline Ford on Salt Creek.

This second ornament, which recently went on sale, features Anderson suited up for one of the three spacewalks he participated in during his April 2010 shuttle mission. The figure is surrounded by other illustrations of his career at NASA, including the Shuttle Discovery, the International Space Station and U.S. flags.

Both ornaments are 24-karat gold over mirror brass, but the latest ornament has the addition of red and white to make Anderson's figure pop out, as well as the flags. The astronaut also can turn to create a three-dimensional image.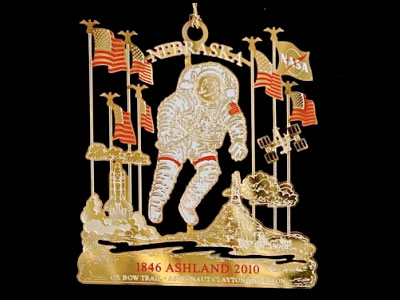 An earlier article by the Gazette shares that Anderson approved the design of the 2010 ornament while he was still flying on the STS-131 mission.
During his mission, Roncka sent a sketch of the new ornament to Anderson via email.

"I thought it was cool and I said, 'Go for it!'" Anderson said after returning from the mission on April 19.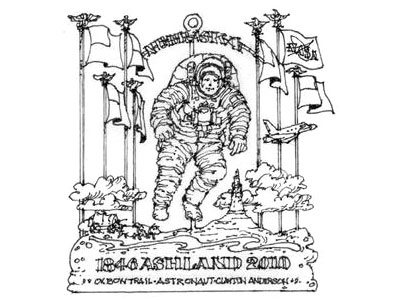 The ornament is normally on sale at Willow Point Gallery in Ashland. During the week preceding Anderson's visit, the Strategic Air & Space Museum will also sell the ornament at their gift shop.
Glint
Member

Posts: 747
From: New Windsor, Maryland USA
Registered: Jan 2004

posted 11-19-2010 09:35 AM




---
What a cool ornament. I see Chimney Rock peeking up in there too.
Jay Chladek
Member

Posts: 2211
From: Bellevue, NE, USA
Registered: Aug 2007

posted 11-19-2010 11:22 AM




---
Some of the ornament sales are helping to fund a project to build four sculpture towers in Ashland that honor its history and heritage. The first one will have a space shuttle on it. All of these are being sculpted by Gene Ronka. I've seen Gene's work up close and he does very good work.

I should also point out that technically Clay is not "signing" the ornaments for the gallery. He will be there and "just happen" to be available to sign the ornaments after you purchase them. As such, if you plan to order the ornament online, it will not have Clay's signature on it. You would have to get that on your own. This is because Clay is still a NASA employee.