Robert Pearlman
Editor

Posts: 31309
From: Houston, TX
Registered: Nov 1999

posted 08-25-2008 10:58 PM




---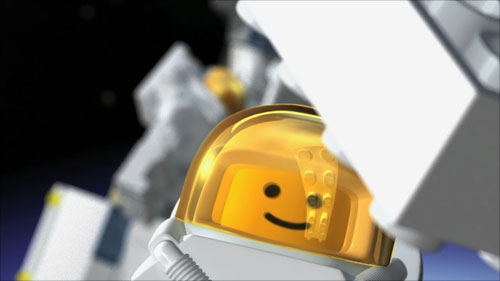 The Lego minifigure was first manufactured and packed into a LEGO set the morning of August 25, 1978. Children of all ages and Lego employees around the world today commemorated the milestone by kicking off Go Miniman Go!, a movement that aims to inspire generations of LEGO children to reconnect with the adventures their minifigures enabled them to live through creative, constructive Lego play.

In 1973, Godtfred Kirk Christiansen, son of the company founder, challenged designers to add a new dimension of play to the Lego building experience, leading to the first Lego figures - a family created from a combination of Lego bricks and special elements to build people. A smaller figure, a simple head on an unmoving body, was introduced in 1975. Godtfred's son, Kjeld Kirk Kristiansen, introduced play themes to the Lego System of building toys, signaling a need for a more realistic, moving figure that had more role play ability for children. Sketch after sketch led to the design of nearly 50 different prototypes and crude models before company executives chose the contemporary minifigure. A patent was filed in 1977, and the first minifigures were manufactured and put into sets for the world to enjoy -- in time for the holiday season of 1978 -- in the Town, Space and Castle themes.

The very first minifigure was a police officer, followed by a fireman, a
nurse, astronauts, medieval knights, a gas station attendant and a
construction worker.
The first minifigure astronauts shipped in 1978 came in red and white spacesuits with a moon and rocket logo imprinted on their upper torso.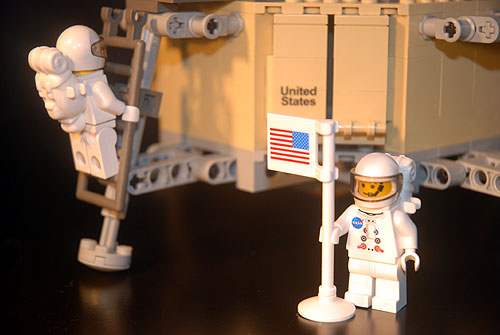 Various changes to the basic design followed, but the first to appear with a NASA logo and to be modeled after a real spacesuit came in 2003 with the limited release Lunar Lander (10029). The two included figures wore Apollo-style spacesuits, consistent with the set's NASA-approved theme.
Lego astronaut minifigures have flown on the space shuttle and in 2004, landed on Mars with the Spirit and Opportunity rovers.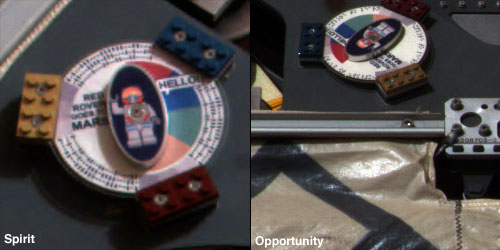 In the past three decades, over four billion minifigures -- astronauts included -- have been produced; that's more than 12 times the population of the United States. Every second, 3.9 minifigures are sold around the world.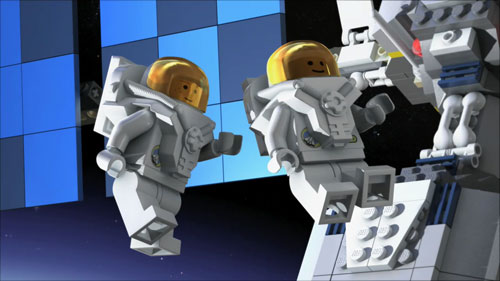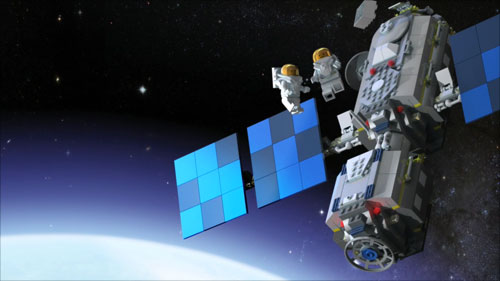 Robert Pearlman
Editor

Posts: 31309
From: Houston, TX
Registered: Nov 1999

posted 06-30-2010 04:04 PM




---
Lego is currently running a promotion on their website: Purchase $75 or more (maybe buying this?) and receive "an authentic, vintage Spaceman minifigure, on a removable 2x4 Brick magnet" with the quote "...in space since 1978." Just use code USSM at checkout...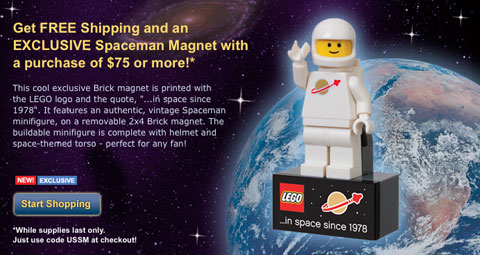 GoesTo11
Member

Posts: 1194
From: Denver, CO USA
Registered: Jun 2004

posted 06-30-2010 05:08 PM




---
Aaaaand... I feel old.

mark plas
Member

Posts: 373
From: the Netherlands
Registered: Aug 2000

posted 07-01-2010 02:18 AM




---
This brings back old memories. I got my first set, the Alpha-1 rocket base, when I turned 5 years old in 1980.
Hart Sastrowardoyo
Member

Posts: 2636
From: Toms River, NJ
Registered: Aug 2000

posted 07-01-2010 08:30 AM




---
quote:

---

Originally posted by GoesTo11:
Aaaaand... I feel old.

---
You ain't the only one. I remember those being the first minifigs to not only have faces, but movable arms.
Jay Chladek
Member

Posts: 2270
From: Bellevue, NE, USA
Registered: Aug 2007

posted 07-01-2010 09:45 AM




---
I think my Legos from childhood are still in storage, including a couple of the space sets from circa 1979-80. As such, I grew up with the space man figures and spent many hours playing with them.