posted 04-29-2007 10:38 PM




---
Rendezvous with Jim McDivitt's other Spider: A Restoration Diary
Choosing the names Gumdrop and Spider certainly showed the world that the astronauts of Apollo 9, Jim McDivitt, Dave Scott, and Rusty Schweickart were masters of naming spacecraft. And their ten day mission, flown March 3 - March 13, 1969, tested and proved just about everything else that America's space program needed for men to land, and to walk on the moon's surface, a short 18 weeks later.
Imagine the pressure, the pace, testing, evaluating, and proving the hardware during the first manned flight of the Grumman Lunar Module. Apollo 9 accomplished that and more, testing rendezvous procedures and hardware, docking the command and lunar modules. Rusty Schweickart's EVA tested the PLSS backpack which enabled Neil Armstrong and Buzz Aldrin to leave those first footprints. Quite a mission. And everything worked to perfection.
It is against this background, and with the perspective of what these men achieved, that I begin this restoration diary.
An Introduction
Many of the readers of this present journal I've either met personally, or know through the internet. Howdie. But for others, Andy Lagomarsino here, a retired professional musician whose hobbies include growing grapes and olives, winemaking... and restoring spacecraft contractor models. Some collectors and other space friends call me Doc. Lem, and I kinda like that.
Who knew when I purchased my first broken up Topping LM model years ago, the many marvelous adventures to follow because I was able to fix it up and make it look better. One thing has led to another, and now that I've been restoring these magnificent models for many years, something unexpected and wonderful has happened. As usual there are thanks aplenty along the way, from the great folk here at collectSPACE, to museum curators who took me backstage, to the many collectors from around the world who have commissioned restorations or trusted me to spruce up their personal models. The greatest bunch of folk, so many to now call close friends. What a blessing.
Yet, nothing really prepared me for the email I received about six weeks ago from Kim Poor of Novaspace. Kim, it would seem, had read my previous article here at collectSPACE, Magnificent Creations, on the restoration of a Topping lunar module model, and had a project in mind, if I'd care to handle it: "General Jim McDivitt has generously donated to our auction one of his personal LM models, Andy, but... well, it needs a bit of work...".
Thanks everyone, I am grateful and humbled. In the weeks to follow, I hope to take the readership here on a pleasant journey by sharing the thrill of victories and the agony of defeats in the restoration of this magnificent piece of spaceflight history.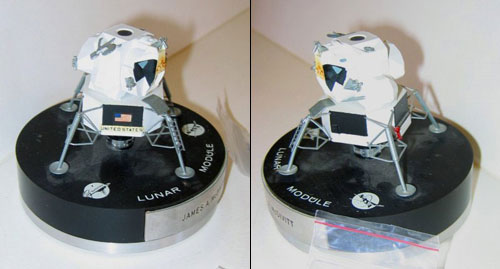 Initial Assessment
Kim's initial email provided two scans of the model, which were sufficient to envision some of the requirements for the project he had in mind. Once we had talked more about time constraints, his and General McDivitt's goals for the model, and the like, it was shipped to me for an in depth hands-on evaluation. As can be seen in the scans below, several things are apparent: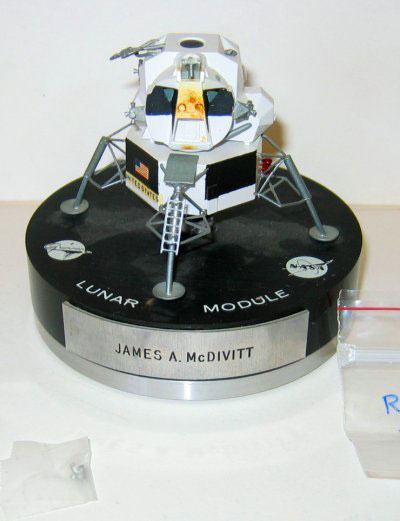 Obviously the model first will need a thorough cleaning. Several metal parts, S-band antenna and rendezvous radar dishes in particular, are damaged, and will need repair/straightening. There is moderate fading/chipping to some of the black painted areas, and the ascent stage of the model has suffered significant discoloration in the area above the hatch.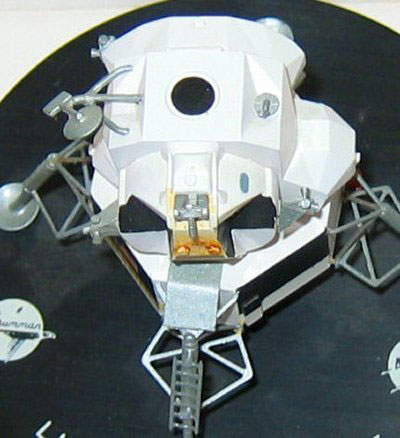 This second view provides a closer look at the bent and damaged metal, as well as the discoloration.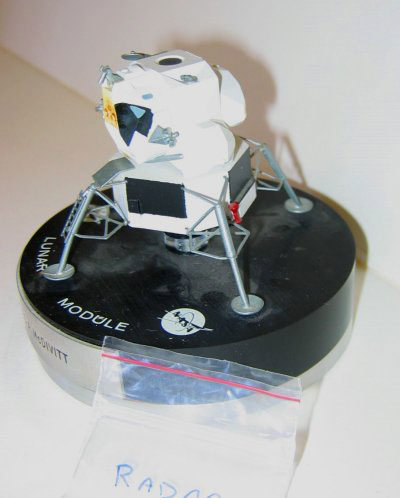 In packing the model for shipment, Kim had the unfortunate experience of the rendezvous radar dish breaking. Part of the radar assembly remained attached to the model; the dish itself is visible in the plastic bag next to the model. On these smaller LM models, it has been my experience that many of the parts were cast with extremely weak metal. Kim and I were actually in the process of an instant message exchange, me having just mentioned the fragile nature of these parts to him, when Kim wrote back that the dish had just separated!
Fortunately from this experience it is easy to understand that it will be a 50/50 proposition as to whether or not the S-band antenna and bracket can be straightened sufficiently without breaking off.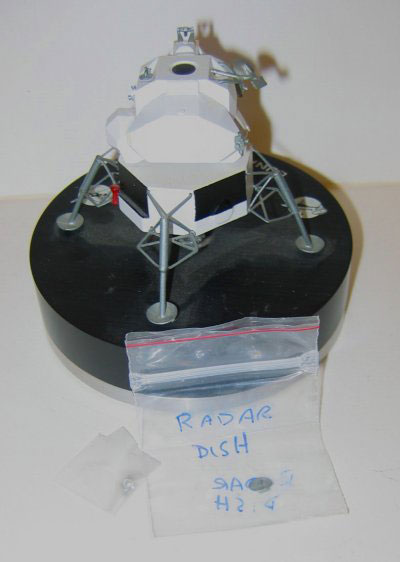 One final problem can be discerned from this first batch of scans. Note the missing thruster quad pack to the rear, commander's side on the ascent stage. Small LM models like this example are quite scarce, as compared to the much larger Topping and Precise versions. Thus few readers would be aware that the missing part is less than 1/4" X 1/4" X 1/4"!
I went from "thrilled, happy, and proud" to arachnophobia (remember... Spider) in one gasp when I saw this! Especially since the missing piece was present in Kim's initial scan. Did I lose it? These thruster packs are obviously very critical to the appearance of a model, and are extremely hard to replicate. Fortunately the missing part was quickly located laying on the carpet back at Novaspace, so all ends happily. And Kim and I both agreed that as part of the restoration, all four of these thruster packs would be permanently attached to the model!
Author's Note
This thread will be updated in approximately two weeks with scans and commentary on the initial steps taken to restore the model. I've estimated the entire project will take 6-8 weeks (I work on models in my spare time) for completion.
Feel free to post any thoughts or questions to this thread, or to contact me directly. In either case however, please take into consideration that my family and farm need their love, too. So, I'm not always able to reply in the speediest of fashions.