neo1022
Member

Posts: 279
From: Santa Monica, CA
Registered: Jun 2013

posted 05-17-2019 10:21 PM




---
Wondering whether anyone can help me track down more information on this item: Apollo Lunar Module-3 (LM-3) Control Panel No. 1 illuminated overlay/faceplace.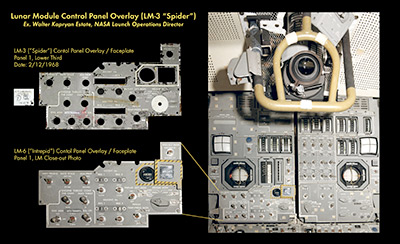 This panel originates from the estate of Walter Kapryan, Launch Operations Director.
On the reverse, the overlay bears the inscription "LM-3 #1 Panel 773750," with two acceptance stamps and the date Feb 12, 1968. This date indicates the panel was produced after the LM-3 integrated test (Jan 31, 1968), and before the final engineering evaluation acceptance test (May 17, 1968) at the factory.
The panel looks to have been installed, as the screw holes show signs of washer wear, and the panel itself has remnants of the aluminum channel edges that were used to reduce flammability and as a heat sink.
Also, several "supplemental data" decals have been added to the controls, something that I understand was usually done quite late in the processing schedule (and only on installed panels, I believe).
So, the questions: Any idea where I might be able to track down more information on this part (its use history, installation, and removal)?
Any additional insights or information would be much appreciated!