Robert Pearlman
Editor

Posts: 42981
From: Houston, TX
Registered: Nov 1999

posted 05-27-2015 09:10 PM




---
A Russian rocket, which was once the fastest machine in the Earth's atmosphere, has been installed in a private garden in a Wiltshire (UK) village, the BBC reports.
The Hypersonic Flying Laboratory, known as Kholod, was bought at auction for £38,000 by Rory Sweet.

He said he had to buy it because it was "the coolest thing I had ever seen."

The rocket, once capable of flying at almost 5,000mph (8,000km/h), has been restored and set in place in his garden in Sherston.
The Kholod, an experimental scramjet engine, was a joint project between the Soviet Central Institute of Aviation Motors (CIAM) and NASA.
A NASA-sponsored test mission, which featured an upgraded engine supplied by KBKhA lifted off on February 12, 1998. With the goal of reaching a speed of Mach 6.5, the Kholod vehicle accelerated from Mach 3 to around Mach 6.41-6.47, after successfully firing for record-breaking 77 seconds at a maximum altitude of 27.1 kilometers.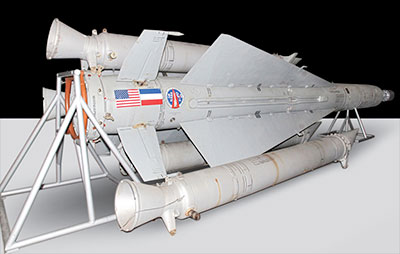 Jurg Bolli
Member

Posts: 977
From: Albuquerque, NM
Registered: Nov 2000

posted 05-28-2015 08:06 AM




---
That is one cool rocket!