When Flight Engineer Chris Cassidy welcomed his three new crewmates aboard the International Space Station last week, they may have thought for a moment they were seeing double.
Flight Engineers Luca Parmitano, Karen Nyberg and Fyodor Yurchikhin, who docked with the station aboard their Soyuz TMA-09 on May 28, were greeted by Cassidy, now sporting a bald head and goatee like Parmitano.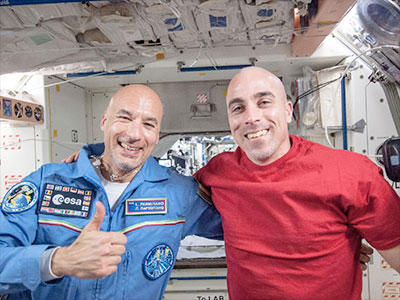 Above: With the recent "close shave haircut" of Expedition 36 Flight Engineer Chris Cassidy, (right), the NASA astronaut has added to any common denominators that he shares with Flight Engineer Luca Parmitano (left) of the European Space Agency.
Using an electric hair trimmer and a vacuum, Cassidy gave himself a "serious" haircut shortly before his three new crewmates arrived.
"I don't think I've looked like this since Plebe Summer!" joked Cassidy, a graduate of the U.S. Naval Academy, as the hair came off.
The team at Mission Control was quick to notice Cassidy's shaved pate and got in on the fun, sending the crew a humorous "wanted poster" to look for the missing hair. Citing the concern that the inability to differentiate Cassidy from Parmitano might result in the wrong crew member coming home in September, flight controllers used NASA jargon to suggest assembling a wig from tape and bungees or borrowing hair from Nyberg.
This wasn't the first time Cassidy displayed a tonsorial sense of humor aboard the complex. Cassidy sported an exaggerated fake mustache when he first arrived on the station, much to the delight of Expedition 35 Commander Chris Hadfield, who has a real mustache.