MEAT10AF
Member

Posts: 12
From:
Registered: May 2013

posted 05-09-2013 04:17 PM




---
I recently purchased the card below, which claims to contain a frame of microfilm flown on Apollo 14.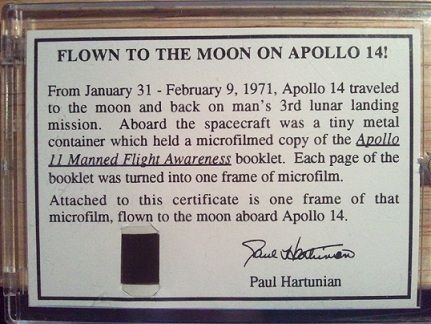 As you can see, this is a microfilm transfer of one of the pages from the Apollo 11 Manned Flight Awareness booklet. I managed to view the film by holding it under a light, and its contents indeed match those of one of the Apollo 11 MFA booklet pages.
However, the only officially documented instance I could find of a microfilmed Apollo 11 MFA booklet being flown to the moon occurred on Apollo 15, when Jim Irwin left a copy on the lunar surface. I can't find any official mention of a booklet being on Apollo 14. Rather, it seems that there are only rumors of such an occurrence.
And, while the presentation is signed by one "Paul Hartunian," I am not familiar with him or his reputability.
So, can anyone offer any history on this item and whether or not it actually made the trip?
prpro
Member

Posts: 75
From: Hope, NJ USA
Registered: Mar 2013

posted 05-15-2013 07:09 PM




---
I'm Paul Hartunian and I can definitely attest that I am very reputable!

I've been in business over 40 years.
I purchased that film from a Superior Galleries auction in 1993 or 94. I have the letter of authenticity that came with it. If you have a fax machine I can fax it to you. Otherwise I'll try to scan it and email it to you.
If you want me to email it, send me your address. Enjoy it!