posted 04-28-2013 04:11 PM




---
I agree with your thought that these particular cue card notes/fill-ins would have been done pre-flight.

As to the source of the writing, I'm not so sure it wouldn't have been a crew member. A confirming and final launch timeline (which seems to be the gist of the additions) might indeed be something the crew would want to personally and directly record for their card.

For reference and comparison, below you'll find two of many well-annotated pages from the A9 LM Rendezvous Activation flight data file (FDF). Click to enlarge.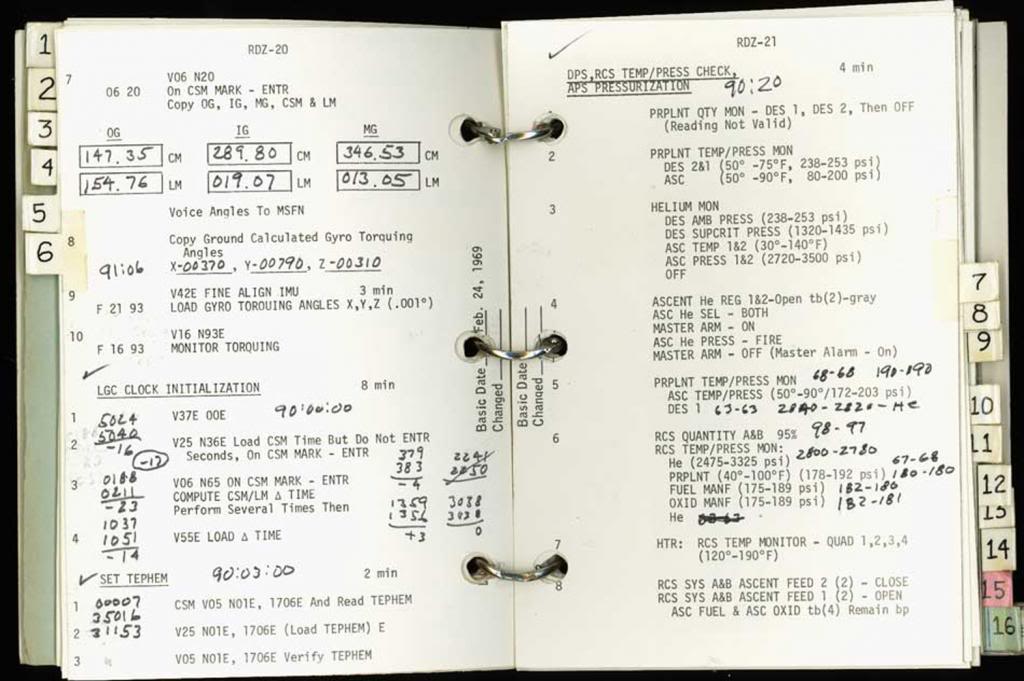 These particular in-flight notes cover LM platform alignment, clock-set, and propellant checks while docked and "warming up the car" for undocking and first free flight from the CM.
The Gyro Torquing Angle entries in the upper left were almost certainly made by the LMP. Per the A9 mission transcript, Rusty Schweickart copies the angles down from a ground communication and then does a confirming readback to CAPCOM (CC):

03 19 04 12: (CC) Okay, while we are waiting on that E-memory dump, let me give you your torquing angles.
03 19 04 17: (LMP) Roger. Ready to copy.
03 19 04 19: (CC) Roger, torquing angles: minus 00370, minus 00790,
minus 00310.
03 19 04 34: (LMP) Roger. Read back: minus 00370, minus 00790,
minus 00310.

Jim McDivitt (and possibly Dave Scott) have made entries elsewhere in the FDF, but the notes on these two pages appear to my eye to be all in the same hand and bear similarities to the cue-card numbers. By inference then, I'd venture a guess that your liftoff cue card entries might be from the LMP.
Opinions from someone with handwriting analysis expertise (not me!) would be helpful.
It would also be good to know if it even makes sense that a LMP would have such duties as cue-card prep and finalize. Certainly the image you showed in your sale listing of the crew sitting around the table would suggest so. Rusty is engaged in the activity, most of the Cue Cards (vs. FDFs) seem to be by him, and he has pen in hand.