It's toured the country and the world to honor the dedication and sacrifice of Americans who have lost their lives serving as police officers, firefighters and military personnel. Now, the
U.S. Honor Flag
will pay tribute to astronauts who have died in the line of duty as it flies this summer aboard space shuttle Atlantis during the shuttle program's final mission.
Begun as a tribute following the Sept. 11, 2001, terrorists' attacks, the flag serves as a traveling memorial to heroes who lost their lives while serving their communities and country. During a May 26 ceremony at the Kennedy Space Center Visitor Complex in Florida, the flag began its journey to space as James K. Loftus, director of the Miami-Dade Police Department, presented it to Bob Cabana, director of NASA's Kennedy Space Center.
"The flag honors all the first responders, military and now astronauts who've paid the ultimate price in service to our country. I think it's a real privilege to take it aboard Atlantis and bring it home safe," said Cabana following the ceremony.
With the visitor complex's Astronaut Memorial Mirror as a backdrop, a 100-member honor guard and bagpipe procession accompanied the flag, which Cabana handed over to veteran astronaut Jerry Ross in preparation for its flight aboard Atlantis. The handoff was followed by a moment of silence at the memorial, which bears the names of astronauts who have died in the exploration of space.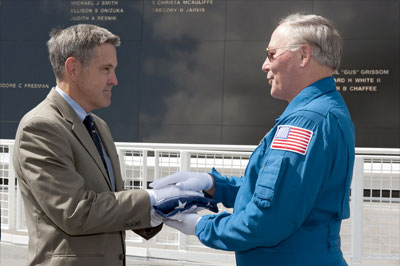 The flag's tour is sponsored by the non-profit Honor Network, but began with one man and his flag, Chris Heisler. Shortly after the Sep. 11attacks, an American flag from the Texas House of Representatives was given to Heisler, who decided to take the flag to Ground Zero at the World Trade Center site. Along the way, he helped organize one of the longest police motorcades in the history of the United States. His flag flew over Ground Zero for two weeks, and the U.S. Honor Flag was born.
"When we took the flag to Ground Zero, we had officers from all over the country, and firefighters. Since then, the flag has been to more than 1,000 different events and has truly become a piece of American history and a national treasure that is safeguarded and protected," says Heisler, "But we had no anticipation that the flag would go from there to NASA, aboard the space shuttle and to the International Space Station."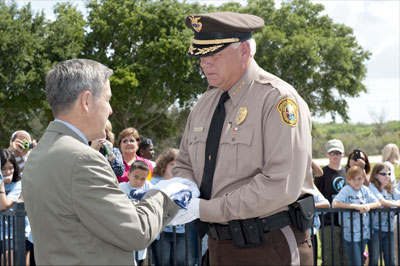 "When this flag comes back from space and goes to the next funeral for the next family," he explains, "it's the little boys and girls whose mother or father made the ultimate sacrifice who will see that flag there memorializing their parent and they'll know that all that history of all these heroes is embedded with their father or mother, so that history continues."
The launch of space shuttle Atlantis on the STS-135 mission to the International Space Station will bring to a close the Space Shuttle Program.