In a new dimension for 3D, Panasonic Solutions Company today announced that its AG-3DA1 Full HD 3D camcorder is headed to space to document the International Space Station on the final mission of the NASA Space Shuttle.
Panasonic is supplying NASA with AG-3DA1 3D camcorders, BT-3DL2550 25.5" 3D LCD monitors and ruggedized Toughbook laptop computers to document the training and preparation leading up to the June 28th launch of the Space Shuttle Atlantis to the International Space Station. Testing and training for the June 28th launch are currently taking place at the Johnson Space Center in Houston, Texas.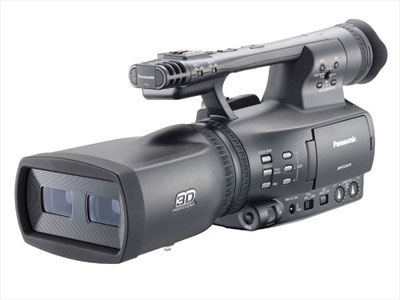 AG-3DA1 Full HD 3D camcorder Credit: Panasonic
After being delivered during the shuttle mission, NASA astronauts will use the lightweight 3DA1 to document the International Space Station in 3D. While at the International Space Station, the astronauts will conduct a number of scientific missions that they will capture with the 3DA1.
"Panasonic is delighted that the 3DA1 3D camcorder is playing a vital role in documenting the NASA mission," said John Baisley, Executive Vice President, Panasonic Solutions Company. "Human spaceflight is about the discovery of new things and places. The amazing 3D images that the 3DA1 produces may allow a new and unique view of the exploration of space for many applications."
About the AG-3DA1
The AG-3DA1 is the world's first professional, fully-integrated Full HD 3D camcorder that records to SD card media.
The AG-3DA1 will democratize 3D production by giving professional videographers a more affordable, flexible, reliable and easier-to-use tool for capturing immersive content as well as providing a training tool for educators.
At less than 6.6 pounds, the AG-3DA1 is equipped with dual lenses and two full 1920 x 1080 2.07 megapixel 3-MOS imagers to record 1080/60i, 50i, 30p, 25p and 24p (native) and 720/60p and 50p in AVCHD. It can record for up to 180 minutes on dual 32GB SD cards in Panasonic's professional AVCHD PH mode, and offers professional interfaces including dual HD-SDI out, HDMI (version 1.4), two XLR connectors, built-in stereo microphone and twin-lens camera remotes.