SpaceAholic
Member

Posts: 4437
From: Sierra Vista, Arizona
Registered: Nov 1999

posted 04-07-2010 07:52 PM




---
Lunar Module Ascent Engine (RS-18) Valve Package Assembly (VPA) in an almost ready for flight/production representative configuration shown alongside an earlier version from the collection. In addition to having intact solenoid/sensor harnesses, secured and installed propellant ducting/feedlines (these were ported directly into the thrust chamber injector). The VPA was a mission critical assembly - had the solenoid valves failed to open and supply propellant to the Ascent Engine, there was no getting home.

Notice the fuel ducting appears larger, bulbous then its companion oxidizer line. During testing of the Ascent engine pre-ignition pressure spikes were observed; this was resolved by lengthening the path the fuel had to take so that timing of its arrival at the injector was delayed to occur until slightly after the oxidizer (the ducting wraps back on itself to extend the path length).

The second image from the U.S. Space and Rocket Center is provided for comparison; the VPA harness is identical with the exception of an external gray mylar sheath which was added during engine final assembly.

The earlier version VPA is now redundant to my requirements and available for acquisition by another collector (pass me a note offline if interested).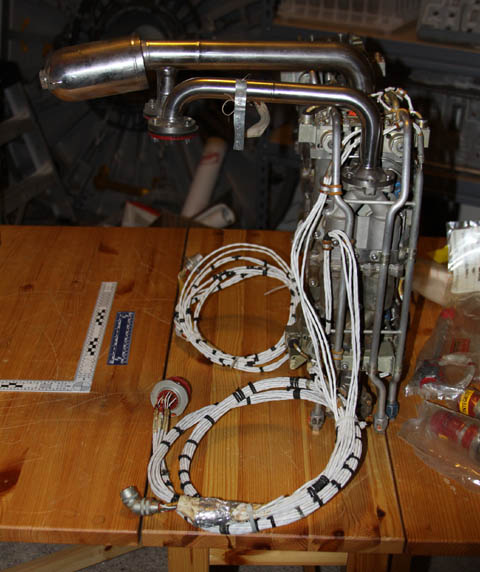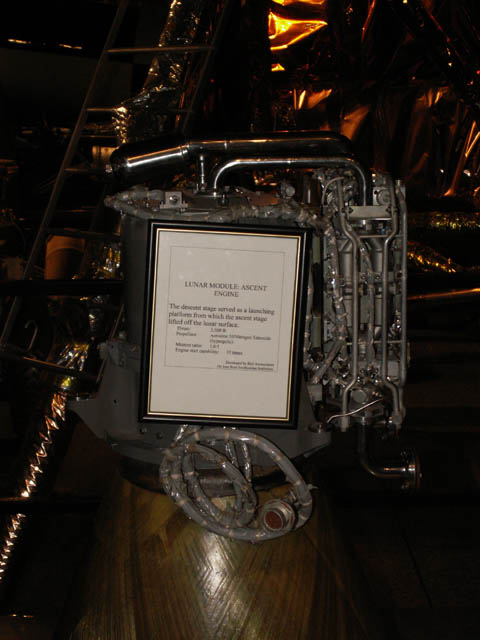 ------------------
Scott Schneeweis, LCDR, USN(Ret);
SPACEAHOLIC.com
Jurg Bolli
Member

Posts: 977
From: Albuquerque, NM
Registered: Nov 2000

posted 04-08-2010 08:56 AM




---
This leaves me speechless... and that occurs rarely!

Jurg
Lunar rock nut
Member

Posts: 911
From: Oklahoma city, Oklahoma U.S.A.
Registered: Feb 2007

posted 04-08-2010 11:32 AM




---
I suspect it won't be too much longer before Scott shows us his completed LEM.
Rick Mulheirn
Member

Posts: 4167
From: England
Registered: Feb 2001

posted 04-08-2010 11:39 AM




---
You have all missed the real star of the show; can you not see what is staring you in the face?

The pine table is a real belter.....

Seeing Scott's collection is always a pleasure.
tegwilym
Member

Posts: 2331
From: Sturgeon Bay, WI
Registered: Jan 2000

posted 04-08-2010 03:29 PM




---
quote:

---

Originally posted by Lunar rock nut:
I suspect it won't be too much longer before Scott shows us his completed LEM.

---
I think Scott has already started building his second LM!