Robert Pearlman
Editor

Posts: 23493
From: Houston, TX
Registered: Nov 1999

posted January 09, 2009 12:08 AM




---
During STS-126 last November, mission specialist Don Pettit devised a cup that took advantage of its special shape and surface tension such that it was perfect for use in microgravity.

He demonstrated the cup's use by sipping coffee during a video that he then narrated for mission control.

collectSPACE uploaded Pettit's video to YouTube (as above), where for a few days, it was the top viewed Science and Technology video on that site. Since then, the video has been watched nearly half a million times. (On December 1, Pepsi included the clip in its daily round-up of viral videos.)

Hoping I might have a chance to chat with Pettit after Thursday night's STS-126 crew post-flight briefing at Space Center Houston, I decided to create a replica of his cup.

As Pettit describes in the video, the plastic for the cup was taken from the cover of a flight data file, so I stopped by an office supply store and purchased a report cover. In orbit, Kapton polymide tape was used to hold the cup together. Despite my best effort, I was unable to find a local store that stocks Kapton, so another 3M product, Scotch tape was substituted (if I ever come across a few strips of Kapton, I will use it to cover the clear tape).

The crew briefing included a mission highlights video, which briefly featured the cup. Afterward, I was able to catch up with Pettit and show him the recreated cup. He looked it over, commenting that it was a tad bigger than those he made in orbit but that its shape was correct.

I was curious as to how he built his, as without the benefit of a table (and gravity), I couldn't imagine being able to attach the base to the walls. It turned out, he didn't need to: he fabricated his cup from one piece of plastic (whereas mine was two), hinging the base on one side.

As he autographed the cup (at my request), he mentioned that National Geographic contacted him to write an article about the cup, and that he built one for them. (Now, why didn't I think of that?)

Before parting ways, he also shared that he had kept the cups that he built in space.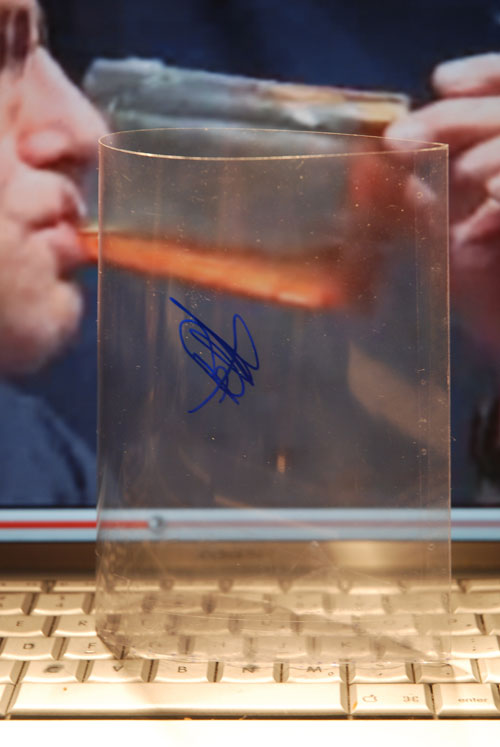 music_space
Member

Posts: 1012
From: Canada
Registered: Jul 2001

posted January 09, 2009 08:39 AM




---
When I saw the video originally, I thought that someone should a) manufacture replicas and b) manufacture build-it-yourself educational kits, intended for the memorabilia market,

Now that the video turned viral, I definitely think so!

A nice project for buySPACE, no?
xlsteve
Member

Posts: 318
From: Holbrook MA, USA
Registered: Jul 2008

posted January 09, 2009 10:28 AM




---
That's pretty cool, Robert. I passed the clip on to my wife when it was posted here to show her students. I think this might be a neat project for her to do with the class the next time she covers space.
Robert Pearlman
Editor

Posts: 23493
From: Houston, TX
Registered: Nov 1999

posted January 09, 2009 01:39 PM




---
quote:

---

Originally posted by music_space:
A nice project for buySPACE, no?

---
I don't know about selling it, but I think it would be cool to produce a pattern that could be freely distributed as an educational tool.
music_space
Member

Posts: 1012
From: Canada
Registered: Jul 2001

posted January 10, 2009 11:06 AM




---
To make a practical demonstration, one could try to somewhat demonstrate, even in 0-g, the fluid dynamics at work here. Find a suitable edible liquid with more viscosity than water - a syrup, or a diluted Jello receipe, and make a smaller model of the cup, so the capillarity action could be seen.
Robert Pearlman
Editor

Posts: 23493
From: Houston, TX
Registered: Nov 1999

posted February 27, 2009 12:20 PM




---
Tuvie: On-Orbit Coffee Cup Design to Use in Spacecraft
This inventive coffee cup concept came to Donald Pettit's mind, who is an astronaut, during the mission STS-126. Instead of using a straw to drink his morning coffee inside a heated aluminum bag, Donald created a cup that could hold liquid in zero gravitation. Travis Baldwin tried to offer his service as a designer to assist him in developing his idea into a real product.