Robert Pearlman
Editor

Posts: 30714
From: Houston, TX
Registered: Nov 1999

posted 07-09-2009 10:40 PM




---
In connection with their Apollo 40th anniversary promotion, Hasselblad now has a page illustrating their Space Cameras.
From our first space journey on Oct. 3,1962, Hasselblad cameras have played an integral part in the Space program, capturing the images that help us to understand our world and its surroundings. There are a range of special modifications and improvements required to meet the stringent demands of space travel. We then apply the knowledge and expertise we gain in space and bring it back to earth, further improving the Hasselblad line. All to ensure that we continue to provide the finest photographic equipment on – or off - the planet.
Spacehardware
Member

Posts: 85
From: Bolney, West Sussex, England
Registered: Jan 2008

posted 12-04-2011 03:53 PM




---
I was interested to see the differences between the Hasselblad camera handle used on Apollo 9 and that of David Scott's moon version sold a few years ago.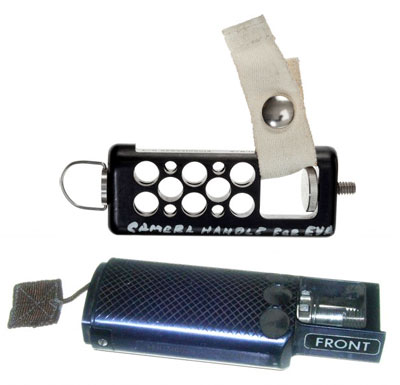 I assume the Apollo 9 handle was a prototype to discover if it was practical to take pics with the Hasselblad in space whilst fully suited.
Does anyone know exactly which type of Hasselblad this handle was used with? The catalogue, Apollo 9 press kit (p.34) and NASA caption do not mention whether it was an EL, SWC or 500C — the three types of Hasselblad carried on the mission.
As far as I can determine the four EL cameras were grouped for a multi-spectral experiment — was this grouping then split up so one of the cameras could be used for the EVA? Otherwise all the other cameras seem impossible to operate with moon gloves on - tiny buttons, no motor drive. Would appreciate any thoughts, photos, bullion...