Robert Pearlman
Editor

Posts: 30714
From: Houston, TX
Registered: Nov 1999

posted 08-24-2008 11:18 AM




---
This thread will offer details and updates concerning the contents of the STS-126 Official Flight Kit (OFK), as well as other mementos carried by Sandra Magnus to the International Space Station.

collectSPACE will present the full OFK manifest after Endeavour reaches the ISS, including commentary about the mementos by the crew.
Robert Pearlman
Editor

Posts: 30714
From: Houston, TX
Registered: Nov 1999

posted 08-24-2008 11:21 AM




---
Monroe County Clarion: Many hands helped craft medallion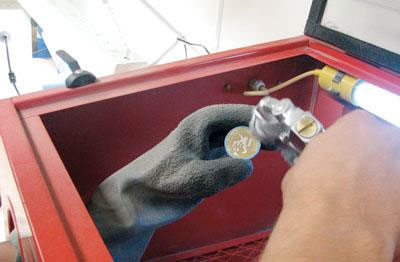 To make something look as good as the medallion astronaut Sandra Magnus will take into space in November, one might think weeks would go into its creation.

But Curt Cecena of Curtis Jewelers, with the help of many, crafted a work of art in the span of two days.

With two graphic designers and his brother Tony-who also works in the jewelry business-by his side, Curt Cecena was able to create a medallion which none of its creators will soon forget.One of these men is Stehn Soderman, one of two graphic artists with Southwestern Illinois College in Belleville. Soderman was tabbed to design the medallion when SWIC Marketing Director Michael Fleming had found a creator for it in Curtis Jewelers.

In the span of three hours, Soderman had created a design incorporating the SWIC logo, Magnus' name and spacecraft designation and a little space scene using his regular software.
St. Louis Post-Dispatch: Jewelers in space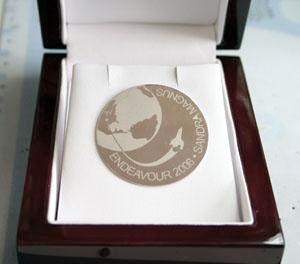 Well, it seems the National Aeronautical and Space Agency-better known as NASA-wanted a medallion made for a trip to space. Taking this medallion into space would be astronaut Sandra Magnus, a native of Belleville who spent a summer semester at SWIC.

At the same time, Magnus' mother, through a circle of friends, had indicated her daughter's wishes of taking a personal piece into orbit in November when she took off for the International Space Station. After the line of information went through its rounds, it ended up on Fleming's secretary's desk, who is a friend of Magnus' mother.

After Fleming contacted Tony Cecena and Tony contacted Curt Cecena, the medallion was ready to be made. Problem was, they only had two days to make a piece that normally takes two weeks. In addition, Magnus could only transport 1.5 pounds of personal items into orbit, so Curt Cecena would have to come up with something light enough so it wouldn't take up all the weight.

"They ended up settling on a disk that is made out of 14-carat white gold," Magouirk said.