Robert Pearlman
Editor

Posts: 30714
From: Houston, TX
Registered: Nov 1999

posted 08-24-2008 02:14 AM




---
Two companies have introduced limited edition pens honoring the 40th anniversary of Apollo 11 in July 2009. Both feature moon dust...

WISE Retail Solutions
Apollo 11 Moon Dust Pen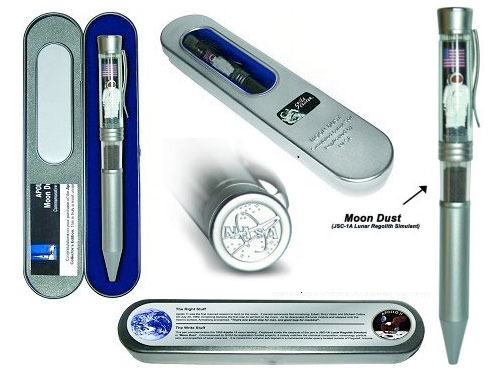 This attractive, high quality writing instrument, commemorates the Apollo 11 Moon Landing while showcasing JSC-1A Lunar Regolith Simulant or "Moon Dust".

Developed for NASA for future space exploration projects, moon dust replicates the exact mineral composition of lunar mare soil.

The pen also features a miniature hand crafted and painted figure of an Apollo 11 Astronaut against a field of space and the American Flag as well as the official insignia stamped into the top of the pen.
A portion of the proceeds from the sale of each Moon Dust Pen will be donated to the Manned Space Flight Education Foundation.

The Moon Dust Pen is available now via The Space Store
for $24.95.
---
MeteoritePens.com
Apollo 11 Meteorite Pen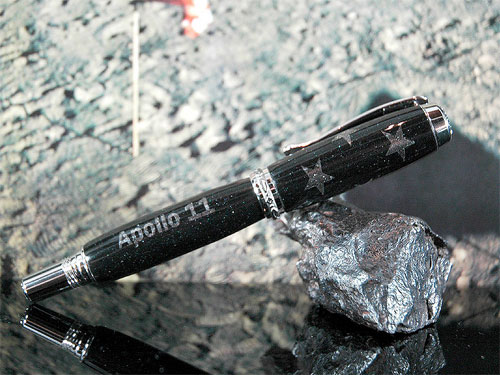 The black resin pen barrel sparkles with tiny pieces of actual meteorite particles that are embedded in the material. The Apollo 11 and the Stars on the barrel are created with meteoritic material from the Campo del Cielo meteorite.

As a special feature for this pen, during the crafting process, a tiny grain of Lunar meteorite NEA 001 was inserted inside the material forming the "A" in "Apollo". It is under the apex in the "A" and is not visible. It is there, however. The lunar meteorite grain, or moondust, if you will, represents a tangible reminder of the historic nature of the Apollo 11 Mission.
A portion of the proceeds of each pen sold will be donated to the Challenger Center for Space Science Education.

The Apollo 11 Meteorite Pen is available now from MeteoritePens.com in four different styles, starting at $150.