Robert Pearlman
Editor

Posts: 30714
From: Houston, TX
Registered: Nov 1999

posted 02-13-2008 02:45 PM




---
When Expedition 16 commander Peggy Whitson entered the European Space Agency's Columbus science laboratory on Tuesday, February 12, she did so wearing a pair of a red, white and blue socks: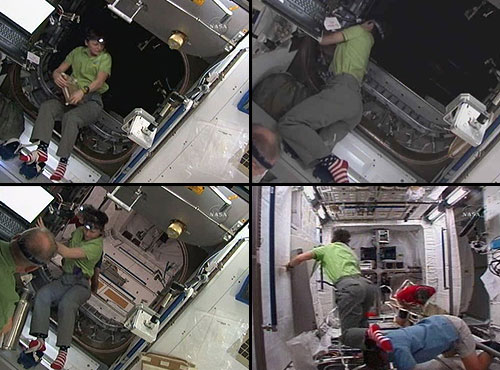 The flag-inspired footwear was a gift from fellow astronaut Shannon Lucid as was made known by a couple of call downs by Whitson to Mission Control where Lucid serves as capcom.
Whiston: "Hey, I just wanted to thank you for the socks. I heard you sent them, thanks for thinking of me. I love red white and blue."

Lucid: "Well you're very welcome... they look very good on you!"
Whitson's socks were reminiscent of another lab opening that occurred seven years ago this week.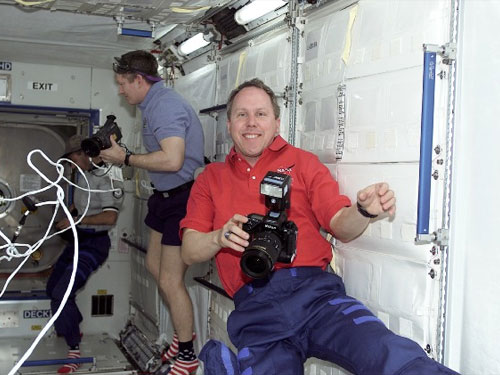 Tom Jones, STS-98 mission specialist (pictured above), explained the "star-spangled socks" in an e-mail to collectSPACE:
"Our crew fashion guru, Marsha Ivins, procured our star-spangled socks. She packed them in our clothing drawers in the middeck and we broke them out for the opening of Destiny. She even brought three pairs for the Expedition 1 crew.

"I still have mine, although I seldom have the occasion to wear them socially."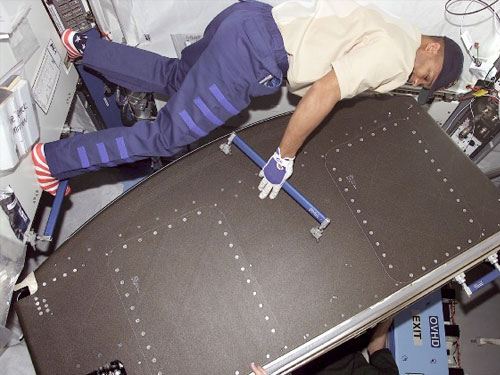 Robert Pearlman
Editor

Posts: 30714
From: Houston, TX
Registered: Nov 1999

posted 02-17-2008 01:42 PM




---
A nice shot of STS-122 commander Steve Frick, ISS Expedition 16 commander Peggy Whitson and her star-spangled socks...