posted 04-14-2022 07:24 PM




---
I am not a coin collector, in so much that the grades assigned to a coin's condition never really interested me. As a result, I have never used NGC's (Numismatic Guaranty Company) services or sought to own coins that were encapsulated.

I do, however, like collecting an example of each space-related coin released by the U.S. Mint (and certain others). Typically, I am only interested in owning one example of each coin. That has not been an issue with the recent issues, as all were sold by the Mint as standalone products, either as proofs or sometimes uncirculated coins.

For the Sally Ride American Women quarter, though, the Mint only released the coins in rolls and bags. The proof version of the quarter only comes in sets (either for the year or with the four other 2022 American Women quarters).

A single quarter ornament is set for release later this year, which seemed like the only option for my collection. Then I saw that NGC was grading and slabbing individual quarters with a "First Day of Issue" label. This seemed like the perfect solution, and as an added bonus I could collect single examples for all three mint facilities (Denver [D], Philadelphia [P] and San Francisco [S]).

(As an aside, for those unaware, the Sally Ride coins now entering circulation are only from the Denver and Philadelphia facilities. The coins struck in San Fransisco were only available through the bags and rolls sold by the mint, such that they are of fewer quantity.)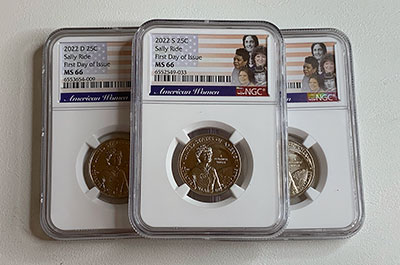 The downside is that grading comes at a cost. If you obtained your own coins from the mint, you could send them into NGC to be encapsulated and graded with the special American Women label at no additional charge (or $12 for the first release designation). If I am reading their website correctly, the cost to grade and encapsulate a "modern" U.S. coin is $19.
If you don't have access to the coins, there are always dealers (on and off eBay). The Home Shopping Network (HSN), for example, is offering a Sally Ride-S quarter already graded and slabbed by NGC for $80. The price is driven in part by the grade, which in this case is MS-67.
(For those unfamiliar, the Mint State [MS] grading is based on a 70-point scale with MS-70 being "perfect uncirculated." MS-67, MS-68 and MS-69 graded coins are considered "superb gem uncirculated.")
The prices asked for coins quickly rise with the higher MS numbers. If you are like me, though, and are just looking for a nice looking example with no obvious blemishes, then the MS-65/66 ("gem uncirculated") graded coins — if not all the way down to MS-60 ("uncirculated") — are a viable option.
Right now, most of the dealers I could find are only offering examples graded as low as MS-66, such that the difference in retail (or Buy-It-Now) prices is $20 each rather than as high as $230 for the higher grades.
I wrote all of this because this was a bit of an education for myself and I thought sharing my experience might help others. Of course, I might be the fool and find out I was taken by the first-to-market dealers, but I am happy having three shiny examples of the Sally Ride quarter each designated "First Day of Issue" with an appropriate label design.