denali414
Member

Posts: 188
From: Raleigh, NC USA
Registered: Aug 2017

posted 02-17-2018 06:26 PM




---
Does anyone know the story behind this STS-133 flown Merritt Island Tracking Station (MILA) medallion? Or how many were distributed? This is the first seen of this flown medallion. Thanks!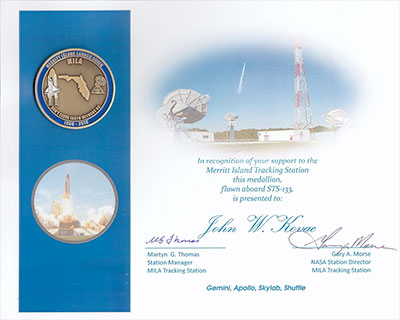 Robert Pearlman
Editor

Posts: 38922
From: Houston, TX
Registered: Nov 1999

posted 02-17-2018 07:06 PM




---
Barring this medallion having flown in an astronaut's PPK, which I think unlikely, it would have been flown as part of the Official Flight Kit (OFK).

The STS-133 OFK does not have a specific entry for MILA medallions, but there is a line item for "60 NASA Medallions," which might be inclusive of this medallion (all 60 could have been for MILA or some subset there within).
denali414
Member

Posts: 188
From: Raleigh, NC USA
Registered: Aug 2017

posted 02-18-2018 11:17 AM




---
Robert, thanks for the information! That makes sense, so number somewhere between 1-60 depending on if another commemorative piece.