JBoe
Member

Posts: 531
From: Churchton, MD, USA
Registered: Oct 2012

posted 01-18-2015 08:16 AM




---
Does anyone have experience with Kamberra Notes? The reason I ask, is the Yuri Gagarin note legitimate or legal tender? From the look it appears to be.

I'm a little confused by this article that discusses a fantasy monarchy.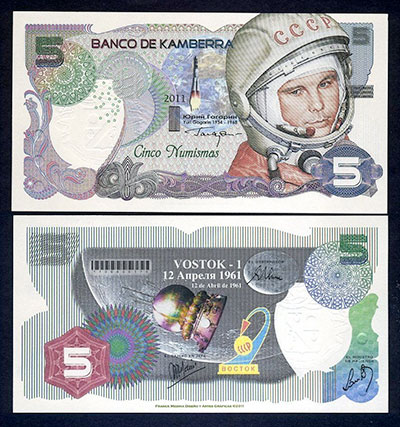 Robert Pearlman
Editor

Posts: 31413
From: Houston, TX
Registered: Nov 1999

posted 01-18-2015 08:43 AM




---
The Kingdom of Kamberra does not exist, nor does its bank. It is the invention of Luxembourg artist Franck Medina, who came up with the idea when he was 14 years old.

As such, it's not legal tender. It isn't tender of any type — it is artwork in the shape of a banknote.

Here's a description by the Unrecognised States Numismatic Society, which describes itself as a "group catering to numismatists whose collecting interests largely focus on... groups purporting, pretending or appearing to be sovereign states, but which are not recognized as such by established governments."
The Kingdom of Kamberra is an invention of Luxembourg artist Franck Medina (King Franck I), as a focus for the creation of his artistamp and banknote designs.

It is purportedly a small Pacific island nation, founded on 24 August, 1988. Home to a population of 23,800 who speak Spanish and Kamberri, it is described as a place of "peace, well-being, tolerance and sharing."

Mr. Medina's website states that the name "Kamberra" is derived from the Kamberri word "kamba'area," meaning "meeting place." The similarity with the name of Australia's capital city, Canberra (named for a Ngunawal Aboriginal word also meaning "meeting place") is probably deliberate.
JBoe
Member

Posts: 531
From: Churchton, MD, USA
Registered: Oct 2012

posted 01-18-2015 09:01 AM




---
Robert, thanks again! It's a tough choice to consider in purchasing. Should I go the space art way or the legal tender/numismatic route?