A (Re)Introduction to Space Covers by Bob McLeod

Many of the early space memorabilia collectors were philatelists and as such were concerned with stamps, cancels, cachets and covers (canceled envelopes). Those who also collected autographs, naturally sent their covers to the astronauts for their signature.

Times have changed and a trend has emerged to shun covers in favor of lithographs and photographs. Dealers now provide high quality glossies, both pre-signed and for mailing directly to the astronauts (along with their required fees, of course).

There has been a loss among new collectors of an understanding and appreciation for space philately. In addition, some experienced and/or influential collectors have recommended against cover collecting for little reason other than their distaste for the medium.

This article was written to present space covers as a worthwhile consideration and (re)introduce the enjoyment associated with their collection.

First Day Covers vs. space event covers

To get started, let's first correct a popular misconception: a space event cover is not a First Day Cover (FDC). A FDC is any envelope with a stamp canceled on the day that it was first officially offered to the public.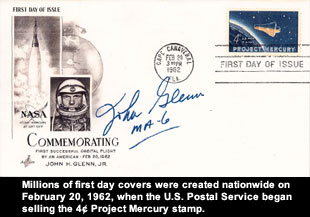 A space event cover is also canceled, but to mark milestones such as a launch or splashdown. In addition to a particular date (and time), the geographical location where the cancel is applied is also significant.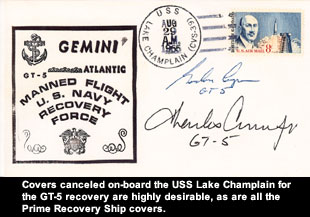 Designer Morris Beck began producing Prime and Secondary Recovery Ship rubber stamp and printed cachets (a design most often applied to the left side of a cover) about midway through the Mercury Program. He continued providing covers for all the Gemini and Apollo flights and concluded with the Apollo-Soyuz Test Project in 1975.

Many enterprising individuals created space covers for commercial sale, even during the first days of the space race. One of the early cachet and cover producers was George Goldey.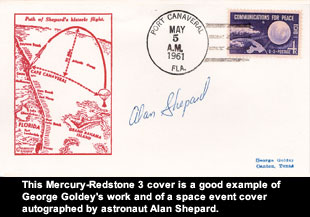 Official NASA cachets and covers
Beginning with Gemini-Titan 5, the Kennedy Space Center Post Office began applying official NASA rubber stamp cachets to collectors' covers for all its major launches. KSC Official NASA Cachets (KSC/ONC) were applied to covers for the Gemini and Apollo manned launches and as well as various other events. In their day, they were probably the most popular philatelic space collectible.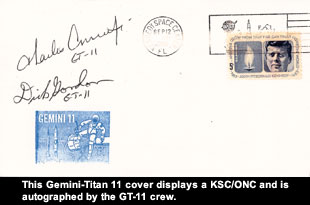 With the launch of Apollo 7 in October 1968, NASA began issuing souvenir postcards, a practice which continued for each manned launch through the first Skylab crew. Commonly referred to as KSC VIP Cards, they were primarily presented as gifts to NASA guests and VIPs attending launches.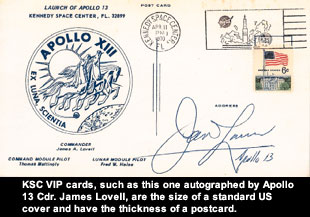 NASA began another philatelic tradition in 1968, an endeavor that continues to the present day.

For their first lunar flight, NASA provided covers with full color cachets depicting the Apollo 8 mission emblem. These NASA "crew patch" covers were available both canceled (for sale in NASA gift shops) and uncanceled (for the collector to add a stamp and have canceled themselves).

Still available in very large numbers, they are especially popular with tourists at the KSC Visitors Center witnessing Space Shuttle launches, a complete set of over 115 covers (from Apollo 8 to the most recent Space Shuttle launch) would be impressive.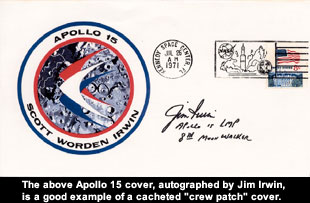 Insurance covers
The Apollo "Insurance Covers" are among the most popular and valuable of all the various space covers.

Created by the astronauts in the event they did not return from the Moon, the covers remained on Earth to provide their families some means of insurance. Hence their name.

Insurance covers were created for only six of the Apollo flights (11 through 16). Collecting a complete set of eight (there were three different types for Apollo 11 alone) can be a difficult and expensive proposition.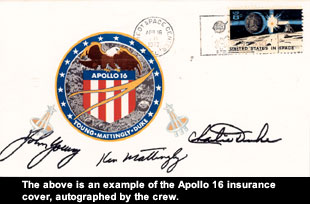 Flown covers
Equally sought after are flown covers (covers actually flown on aircraft or spacecraft and documented by the astronauts). Though the covers carried to the Moon aboard Apollo 15 might be the most famous, flown covers have existed at least as far back as the X-15 Program. Pioneer space cover collector, Barbara Baker had cooperative pilots carry her covers on their record-setting flights.

Probably the most popular flown covers were those officially flown aboard Challenger/STS-8 and sold to collectors by the US Postal Service. Still very affordable and easy to find, these can allow almost anyone to own space flown artifact.

Of course, not all flown covers worth collecting originate from the United States. The 15 year mission of the Soviet/Russian space station Mir may have been successfully concluded, but countless collectibles remain from its historic voyage.

Cosmonauts, facing the harsh realities of a modern day Russia, prepared covers for sale upon their return to Earth. To document that they were flown on board Mir, the covers were marked with several unique onboard hand cachets or cancels.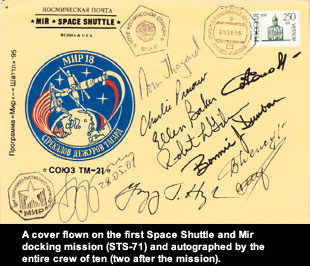 Autographs and covers
As briefly mentioned earlier, some collectors have questioned covers as appropriate or desirable for autographs.

While trying to collect a large number of signatures -- such as all 44 members of the Astronaut Class of 1996 -- might be better suited by an 8x10" lithograph, space covers offer a high contrast and spacious medium for individual signatures.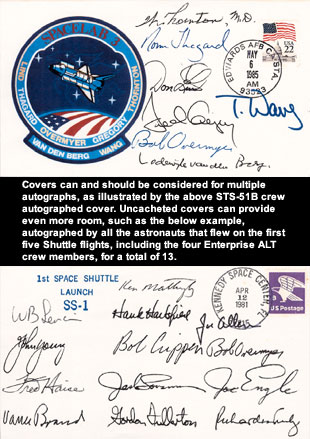 Why select a cover versus a lithograph or photograph for an autograph? For the new collector or those with limited budgets, autographed space covers can provide a good alternative to paying the higher prices associated with the identical signatures on the more popular lithograph or glossy.

For example, covers autographed by the late moonwalker Jim Irwin are plentiful and can be bought for much less than $100, while his autographed portrait can sell for many times more.

Availability
Space covers are plentiful, as hundreds of thousands of many various types have been created since the 1950's. Auction websites such as eBay can be a good source as are the following private dealers:


Space Coast Cover Service
570 Sunset Lakes Dr.
Merritt Island, FL 32953

Titusville Moonport Stamp Club
Attn: Wanda Smith
PO Box 6071
Titusville, FL 32782-6071
For more information on space covers and space philately, visit the Space Unit's website.