Memorial Space Covers
Apollo 1 to STS-107

by Ray E. Cartier

Members of the Space Unit of the American Topical Association often utilize their interests and excitement in the manned space programs to honor the men and women who have flown into space. Collecting a postmarked history of the exploration of space is both fun and educational as, like with any other topic, members start with an interest in the subject and then learn more about it as they seek covers or stamps that will tell a story in their own fashion.

Space cover collectors, in general, want to document the entire program and as such, cannot be recalcitrant about collecting covers that mark the failures as well. Soviet and American manned spaceflights have had a 98% success rate. But, as we have recently seen with the loss of the STS-107 astronauts, there are failures.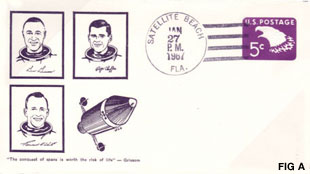 The first major failure occurred on January 27, 1967. During a test of the new Apollo capsule, a spark set off a fire in the oxygen-rich capsule, killing the three astronauts. Veterans Gus Grissom and Ed White, along with unflown rookie, Roger Chaffee perished, at 6:31 PM. The post offices at both the Kennedy Space Center and Cape Canaveral were closed. However, a handful of covers exist from the nearby Satellite Beach (fig a) and Cocoa, Florida post offices.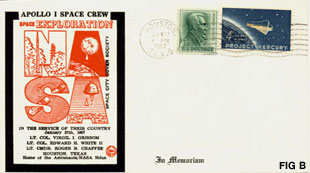 In Houston, collectors obtained postmarks on 100 covers from the main post office there. (fig b).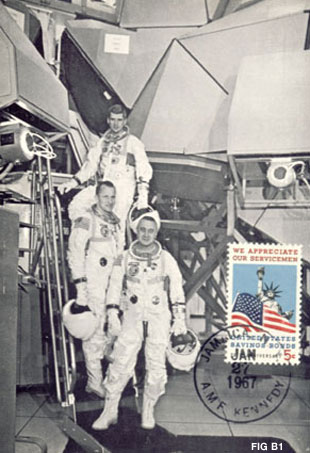 There are postmarks from three sites in New York, (fig b1) but those are not sought after, as are these from at or near event sites.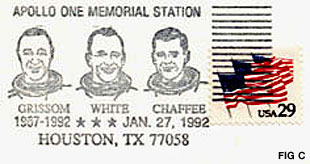 Subsequent to what is now known as The Apollo Tragedy, pictorial postmarks were created to honor the lost heroes. Examples of different cancellations are shown on (fig c).

Less than three months later, the Soviet Union had a space disaster of its own. Veteran cosmonaut, Vladimir Komarov became the first man to die during a space flight. Though reentry was successful, his main parachute failed to deploy due to a pressure sensor. Trying his reserve chute, it became tangled with his drag chute. Urban legend says he was able to bid his wife, and Soviet Premier Krushchev a tearful farewell before his Soyuz 1 capsule impacted the ground.

At that time, the Soviets were trying to keep the sites of their launches secret, and no cancels could be obtained from Baikonur. To fill the void in manned launch covers, the various stamp clubs throughout the USSR had been creating "club cachets" for every flight, both manned and unmanned. However, as many of these covers found their way from Russia through East Germany and on to the West, the Soviet government issued an order shortly before the ill-fated mission that the clubs were to cease these "capitalistic ventures".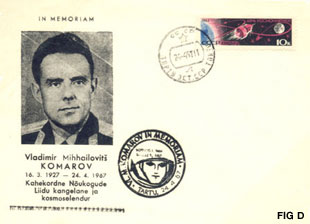 One man, with a friend in the post office at Tartu, continued however to produce covers. For the launch of Soyuz 1, he created a total of 300 covers. For the April 24, 1967, date of the disaster he created 250 (fig d). These are the only correctly dated covers that exist for this mission.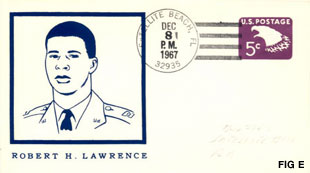 That same year continued to be problematic for the manned space program when, on December 8, 1967, the first African American chosen to be an astronaut, Robert H. Lawrence was killed in a USAF aircraft accident. (fig e). Although other astronauts died in aircraft accidents, this example is the only one that will be illustrated in this article.

The Apollo program also saw a near disaster with the explosion of a cryogenic oxygen tank aboard the Apollo 13 service module. In this case, as was well illustrated in a 1995 movie, the crew returned safely.

There were no additional accidents during the Apollo program, but on June 6, 1971, the USSR suffered another major loss when the crew of the Soyuz 11 capsule died during re-entry. The three men, Georgi Dubrovolski, Vladislav Volkov and Viktor Patsayev had set a record in space, having docked with the Salyut 1 space station for 24 days. A hatch was not closed properly and the three men died of the bends: the same problem that divers have if they return to the surface too quickly from a deep dive.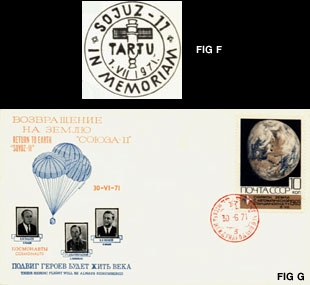 Only 150 cancellations were created in Tartu this time (fig f) but American and German collectors were now obtaining postmarks from the International Post Office in Moscow as well. (fig g).

The Soviets hid the fact that a major explosion occurred on the ground while fueling their first "moon rocket", and many of their key scientists and probably some unflown cosmonauts as well were among the hundreds of victims. There are no known covers for this disaster.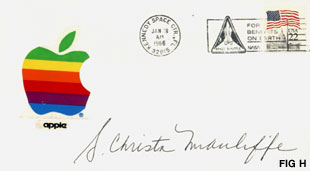 Fifteen years later, on January 28, 1986, Space Shuttle mission STS-51L lifted off into the clear, but cold Florida sky. Seventy-three seconds later, something went terribly wrong and the vehicle exploded killing all seven astronauts aboard. They were commander Dick Scobee, pilot Mike Smith, mission specialists Ron McNair, Ellison Onizuka and Judy Resnik, payload specialist Greg Jarvis, and space participant for the Teacher in Space program, S. Christa McAuliffe. (fig. h). This was the first tragedy that was witnessed by the world as it occurred.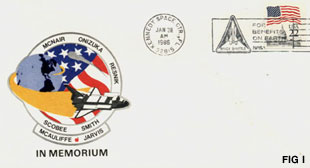 Some covers, printed for the launch that day, were later overprinted with "In Memoriam" text. (fig i). Other covers were cancelled from various NASA related sites as well, including Houston, TX and Greenbelt, MD.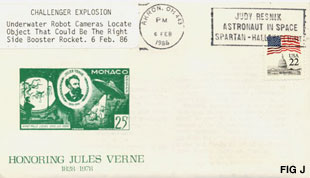 There were covers made for the debris recovery efforts (fig j). This cover was postmarked from the hometown of Judy Resnik with a special cancellation that was initially issued to commemorate her successful flight.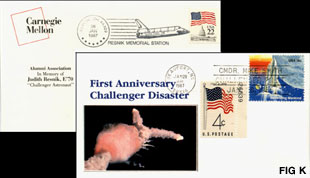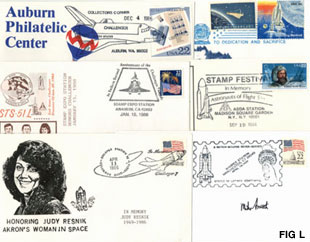 There were some covers made on the first anniversary of The Challenger Disaster (fig k). More examples of later "show cancels" are shown in (fig l).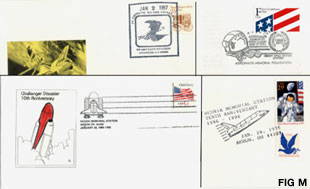 Even up to ten years later, memorial covers were still being created. (fig m)

Seventeen years have passed and now another space tragedy is being memorialized: the loss Columbia of February 1, 2003. After a successful mission, and only sixteen minutes from landing in Florida, the Space Shuttle Columbia, on mission STS-107, disintegrated over the state of Texas.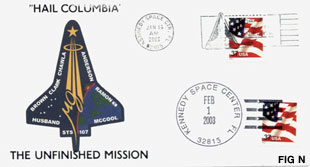 Covers were created in Florida for this tragedy (fig n). This dual cancelled cover has the dates of the launch and the loss.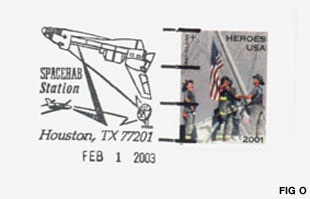 The Houston Post Office allowed collectors to obtain postmarks from February 1st for up to 30 days after the event (fig o).

The anthrax scare of 2001 made it much more difficult to obtain covers from other places. A handful of covers were postmarked in Dallas on the date of the disaster, but these have not yet been cacheted and they were not available for illustration in this article.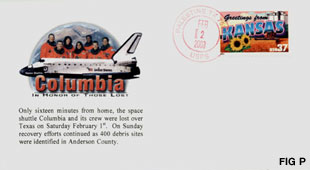 Other covers submitted to the postmaster at Palestine, Texas, which was at the beginning of the major debris field, were not cancelled until the 2nd, (fig p) and the postmaster refused to acknowledge a request to replace those covers. As it turned out, debris recovery started on the second making this cancel historically correct.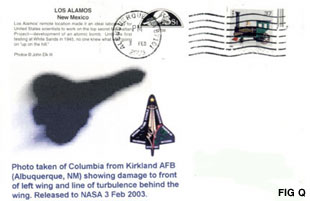 Likewise, five postcards were dropped into the mailbox at the main post office in Los Alamos, NM before the final pick-up on February 1st. These arrived back with a February 3rd postmark from Albuquerque, (fig q) and again, the postmaster in Los Alamos failed to respond to a request for replacement cancellations on covers sent back to that office. But, February 3, appears to be the date that photos taken of the shuttle from Kirkland AFB in Albuquerque, were released to NASA, showing damage to the left wing and those five postcards were given a cachet to that effect.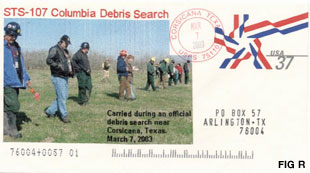 There were 500 covers carried by this author in a backpack during one of the search missions for shuttle debris in a cow pasture, seven miles west of Corsicana, Texas. This time there was sufficient time to work with the postmaster, Mr. Tom Raley, who spent over 45 minutes checking with his managers by phone to learn what could be done to help. Due to his diligent efforts, these covers were successfully cancelled and are being distributed to the members of the American Topical Association's Space Unit, at no cost. (fig r).

There are a scattered few other covers that were created for the search missions or for the disaster date from Nacogdoches, TX, one of the earlier debris sites. Other covers will most certainly appear.

There will be show covers and anniversary covers for this tragedy as well. Collectors will obtain and keep these covers, but the main thrust of these collections will be to continue to document the history of space exploration. Each loss of life in space is a loss to the nation of talented and trained individuals, and in each mission there is danger.

In the words of the late Gus Grissom, "The conquest of space is worth the risk of life".

© 2018 collectSPACE.com All rights reserved.
Questions? E-mail contact@collectspace.com

Ray E. Cartier is the President of the Space Unit, affiliated with the American Topical Association. This organization is dedicated to helping space philatelists in the pursuit of their hobby of collecting a postmarked history of the space programs. Membership is only $16.00 for the first year and includes six issues of their 48 page magazine, The Astrophile. There are five to six large auctions per year and usually a recent space cover in every issue.

Although 500 covers were made for the debris search cover for STS-107 there will be about 40 left over after they are included with the July-Aug issue of the Astrophile, for the next 40 people who join the Space Unit. There will be about the same number of STS-107 launch covers being included with the May-June issue of the Astrophile.

For more information about the Space Unit, contact the Secretary, Carmine Torrisi at P.O Box 780241, Maspeth, NY 11378 or by email at ctorrisi1@juno.com. Or you can visit our website.


---
Feedback: collectSPACE: Messages