"Flight: 100 Years of Aviation"
by R. G. Grant
DK Publishing, 2002

Review by Larry McGlynn

The Smithsonian's National Air and Space Museum (NASM) has released "Flight: 100 Years of Aviation", a commemorative edition dedicated to the first 100 years of aviation. English publishing house Dorling Kindersley Ltd. (DK Publishing) commissioned R.G. Grant, an English author of historical literature, to assemble this comprehensive history.

I had first noticed this book at Barnes & Noble, but at the time did not buy because I already owned several NASM aviation histories (although the cover of "Flight" depicts one of the more romantic aviation photos I have seen). Equally detracting was the book's large size (10" x 12"), giving meaning to the term "coffee table" book.

My wife ultimately bought "Flight" for me as a Christmas gift and I spent the afternoon of December 25, flipping through the pages, which sufficiently engaged my interest to read further.

In one fairly concise volume, "Flight" in seven chapters traces the development of flying from the Wright Brothers to the Space Shuttle. Each chapter summarizes an era of aviation, with more specific events profiled as sidebars.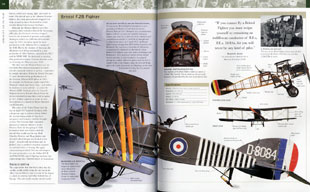 DK Publishing has done its usual excellent job crafting this coffee table book, filling it with photographs and design features that should makes the book an instant collectors item. It outdoes the typical Smithsonian fare by applying an encyclopedic flair to the book's chapters, including biographical profiles of pioneers such as the Glenn Curtis, Jimmy Dolittle and William Lear. Additional sections within each chapter provide a visual look at the more famous planes of the different ages.

"Flight" look beyond national accomplishments, giving credit to contributions that Europe, Russia and the rest of the world made to aviation. This view is probably most evident when the books focuses on space flight, beginning with Tsiolkovsky and ending with a quote from cosmonaut Vladimir Lyakhov. Space exploration is viewed as an multi-nation endeavor that now includes the International Space Station.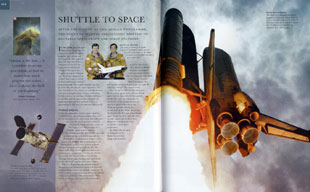 Forty pages are devoted to space, which roughly equates to one page for every year of manned flight. Sidebars include profiles of Korolev, Goddard and Gagarin, as well as events such as Apollo 11 landing on the Moon, Apollo 13, Skylab and life on Mir.

The same wealth of photographs that makes this book so enjoyable to own, sometimes make it hard to read due to information overload. I found that by reading through a complete subject and then returning to the captions and sidebars, I was able to better keep track of the material presented in each chapter.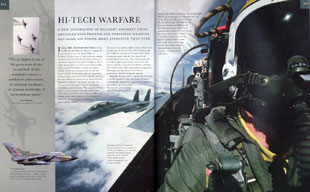 Published in 2002, "Flight" covers events that occurred right up to present day, including the September 11, 2001, terrorist attacks and Francis "Gabby" Gabreski's passing on January 31, 2002. Once you are finished with Flight, you have as complete a history of aviation as can be attempted in one volume.

The final chapter takes a brief look at the future of flight including commercial and military aircraft design as well as the potential of space exploration.

All things considered, "Flight: 100 Years of Aviation" by the Smithsonian's National Air and Space Museum, DK Publishing and R.G. Grant is a well-received illustrated history of aviation's first centennial.

© 2018 collectSPACE.com All rights reserved.
Questions? E-mail contact@collectspace.com