- collectSPACE Museum -

The rarest of them all (cont'd)

1. Georgi Dobrovolsky
1. Viktor Patsayev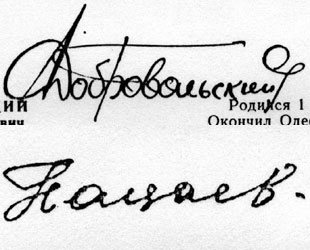 Viktor Patsayev and Georgi Dobrovolsky flew their first space mission (Soyuz 11) together, died together, and are almost always paired when lists are made of the rarest astronaut and cosmonaut autographs.

Soviet tradition, which continues to this day, discourages cosmonauts from signing before the completion of their first flight. Patsayev and Dobrovolsky were no exception.

While researching this article, Russian space memorabilia dealer Alex Panchenko spoke to Soyuz 11 original prime crew member Alexei Leonov on behalf of collectSPACE.

Leonov would have flown the mission had it not been for his crewmate Valery Kubasov falling ill a few days prior to launch. As a result, the back-up crew including Patsayev, Dobrovolsky, and Vladislav Volkov were inflight when the cabin depressurized during reentry.

Leonov holds firm that he never allowed Dobrovolsky and Patsayev to sign autographs. As such, official documents (e.g. their cosmonaut IDs, displayed at the Yuri Gagarin Memorial Museum in Star City) may be the only examples of their authentic signatures.

The above two autograph examples were published in the Russian cosmonauts biography collection "Sons of The Blue Planet, 3rd Edition" published in 1981 by Political Literature Press, Moscow. Many thanks to space historian and collector Rex Hall for his assistance obtaining copies from this book.



© 2021 collectSPACE.com All rights reserved.
Questions? E-mail contact@collectspace.com