December 22, 2019
— Boeing's first Starliner spacecraft is back on Earth after a timing error resulted in its maiden mission being cut short.

Although its uncrewed Orbital Flight Test (OFT) ended early and it was unable to reach the International Space Station, Boeing's CST-100 Starliner did achieve some of its original mission's objectives and became the first U.S. crew capsule to touch down from Earth orbit on land. Descending under parachutes and deploying airbags, the spacecraft made a soft landing at the White Sands Missile Range in New Mexico at 5:58 a.m. MST (1258 GMT) on Sunday (Dec. 22).

"I think there have been some really good milestones that we have been able to achieve," said NASA Administrator Jim Bridenstine during a call with reporters on Saturday. "I want to emphasize that we have had a lot of successes, we've gotten a lot of test objectives complete."

"Not every objective is weighted equally. They are not all the same. Launch, of course, is a big one, and entry, descent and landing is another big one," he said.

Launched on a United Launch Alliance Atlas V rocket from Cape Canaveral Air Force Station in Florida on Friday, the Starliner was successfully placed into a suborbital trajectory 15 minutes after leaving the ground. But after it separated from the booster, the spacecraft failed to fire a critical orbital insertion burn as a result of a mission elapsed time clock that was set wrong.

"Our spacecraft needs to reach down into the Atlas V and figure out what time it is — where is the Atlas V in its mission profile, and then we set the clock based on that," explained Jim Chilton, senior vice president for Boeing's Space and Launch Division. "Somehow, we reached in there and grabbed the wrong [time]. This does not look like an Atlas problem. We reached in and grabbed the wrong coefficient. There is more to learn there."


The errant clock setting resulted in the Starliner thinking it was later in the mission than it really was, leading to it fire its reaction control system thrusters to keep what it is believed to be the correct attitude. That, in turn, used up the propellant it needed to reach and dock with the space station.

"We used quite a bit of fuel firing the thrusters. We didn't have enough propellant to go up close to the space station, even to approach," said Steve Stich, NASA's deputy manager of the commercial crew program.

With its original mission plan no longer possible, flight controllers quickly made the decision to set up for a return to Earth on Sunday, while still performing as many of the OFT demonstrations as possible. On Saturday, the spacecraft was able to link its communication systems with the distant space station.

"That is important because, in the future when we approach the station, we want station crews to be able to stop the vehicle if they choose to, or push it back, or maybe bring it in. So it was great to see that link," said Chilton.

The Starliner was also able to use its sensor system, called the Vision-based Electro-optical Sensor Tracking Assembly or VESTA, to feed position data to its inertial and GPS-based navigation devices. It also performed a simulated rendezvous abort, executing the same maneuver it would if it needed to recede from the space station in the case of a problem with its approach.

"We also extended and retracted the docking system, the mechanical way you would go get yourself attached to the station," said Chilton. "We mechanized that and we now know it will work. That was a good thing to get done to make sure the next time we fly and approach the space station that we won't get any surprises there."

On Sunday at 5:23 a.m. MST (1223 GMT), the Starliner fired the thrusters on its service module to perform a 55 second deorbit burn, slowing its velocity and beginning its return to Earth after 33 orbits of the planet. Five minutes later, the crew capsule separated from the service module for its entry into atmosphere.

Though there were no astronauts aboard, the Starliner did carry a passenger for the ride home.

"Rosie, the anthropometric test dummy, has accelerometers on her and various force measurements on her, so we're going to be able to measure how a human would receive the g's during entry, as the parachutes deploy and as we land. We can measure that environment on Rosie and then extrapolate how a human would do in that environment," said Stich, referring to the instrumented mannequin that was named after the World War II cultural icon "Rosie the Riveter."

Approaching New Mexico from the southwest, flying over the Baja Peninsula and Mexico before passing west of El Paso, Texas, the Starliner jettisoned its forward heat shield at 30,000 feet (9 kilometers). Two drogue parachutes began slowing the capsule's descent, followed by three red, white and blue main parachutes. At about 3,000 feet (0.9 km) off the ground, the bottom heat shield was detached and six airbags inflated.

"Being able to watch the entire sequence from the ground was just fantastic," said Chris Ferguson, a former NASA astronaut and Boeing commercial astronaut who is assigned to fly on the Starliner's first crewed flight test.

"Three parachutes, six airbags and a beautiful soft landing. Can't wait to try it out," said NASA astronaut Mike Fincke, who will fly with Ferguson and NASA astronaut Nicole Mann.

"It was incredible to see. We're so excited for the Boeing and NASA team and the recovery forces today did an incredible job," said Mann.

In addition to being the first U.S. crew capsule to touch down from Earth orbit on land, the Starliner was only the second human spacecraft to land at White Sands Space Harbor after space shuttle Columbia in 1982.

With the test flight now over, Boeing will analyze the data that was collected to be ready for its next Starliner launch, possibly with crew aboard.

"The real point of the OFT mission [was] to learn about the spacecraft and its operations as soon as we can and to set us up for their future crewed flights," said Stich. "I think the team has done a really good job."

"One of the biggest things we have learned is how good a team this is," Chilton said. "The Boeing-NASA team on our very first flight got a little surprise immediately upon reaching space and their reaction and professionalism has been really inspiring, and inspires confidence for future missions."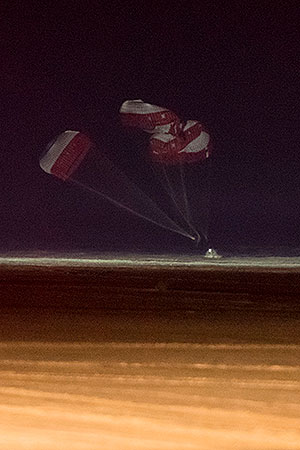 Boeing's CST-100 Starliner spacecraft lands under parachutes in the pre-dawn hours of Sunday, Dec. 22, 2019. The capsule touched down at White Sands, New Mexico after an abbreviated flight test lasting 2 days, 1 hour and 21 minutes. (NASA/Aubrey Gemignani)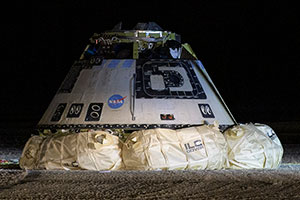 The Boeing CST-100 Starliner spacecraft is seen after it landed in White Sands, New Mexico, Dec. 22, 2019. (NASA/Bill Ingalls)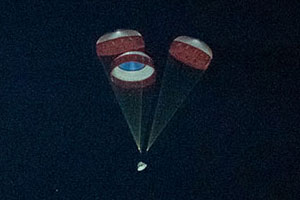 The Boeing CST-100 Starliner spacecraft lands in White Sands, New Mexico, Sunday, Dec. 22, 2019. (NASA/Aubrey Gemignani)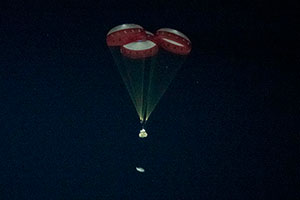 The Boeing CST-100 Starliner spacecraft jettisons its bottom heat shield and begins inflating its airbags before landing at the White Sands Space Harbor in New Mexico. (NASA/Aubrey Gemignani)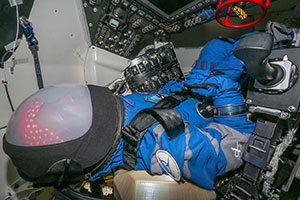 The anthropometric test device "Rosie" is seen strapped into a seat aboard the Orbital Flight Test (OFT) CST-100 Starliner prior to the spacecraft's launch on Friday, Dec. 20, 2019. Rosie collected crew load data during the Starliner's entry, descent and landing. (Boeing)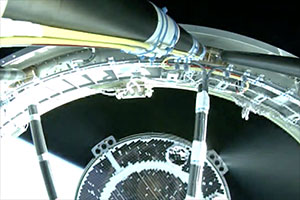 Boeing's CST-100 Starliner spacecraft (center, bottom) fires two of its reaction control system thrusters as it is seen separating from its Atlas V launch vehicle's Centaur upper stage, Dec. 20, 2019. (ULA)