December 20, 2019
– A Boeing commercial spacecraft designed to fly astronauts launched into orbit for the first time Friday (Dec. 20), but a software timing error left the CST-100 Starliner incapable of reaching the International Space Station as had been the plan for the flight test.

Based on preliminary data, flight controllers believe that a clock intended to track mission elapsed time was incorrectly set, which in turn led the Starliner to think it was in the midst of a critical orbital insertion burn when it was not. As a result, the uncrewed spacecraft autonomously fired its thrusters to maintain what it believed was the correct attitude, using up the propellent it would need to rendezvous with the space station.

Despite being left in the wrong orbit and now with an end of mission planned for as early as Sunday, NASA Administrator Jim Bridenstine said the Starliner's Orbital Flight Test (OFT) was not a total loss.

"Today, a lot of things went right," said Bridenstine in a press conference. "This is, in fact, why we test."

Critical time

The Starliner lifted off Friday at 6:36 a.m. EST (1136 GMT) atop a United Launch Alliance (ULA) Atlas V rocket from Space Launch Complex 41 at Cape Canaveral Air Force Station in Florida. The booster included the first two-engine Centaur upper stage to be flown in 15 years and a Starliner-specific adapter and aeroskirt to reduce aerodynamic loads during the vehicle's climb through the atmosphere.


The 15-minute ascent proceeded to plan, with the Starliner being released by the Centaur into a suborbital trajectory designed to protect for abort options for when there is crew aboard.

"It was a uniquely configured Atlas V for the crew mission, so it is very significant that it was a nominal flight," said Tory Bruno, ULA's CEO. "We successfully flew a payload without a fairing, the skirt that was added to manage aerodynamic loads functioned beautifully, the ascent covers on the capsule separated nominally during flight, the aeroskirt separated nominally, we flew the flattened low-g re-entry trajectory for crew-safety purposes perfectly and, at the point of separation of the spacecraft, we achieved those separation parameters and in fact, hit a bullseye."

About 16 minutes after it separated, the Starliner was programmed to perform a 40-second burn using four of its orbital maneuvering and attitude control thrusters to begin a day-long rendezvous with the space station. That did not occur, despite attempts by flight controllers in Houston to send commands for the thrusters to fire.

"When the spacecraft separated from the launch vehicle we did not get the orbital insertion burn we were hoping for," Bridenstine said. "By the time we were actually able to get signals up to command the orbital insertion burn, it was a bit too late."

Again, based on preliminary data, it is believed that the commands sent to the spacecraft to execute the missed burn did not reach the Starliner because the signal came while the capsule was between coverage from NASA's network of tracking and data relay satellites.

Between that and the mission clock anomaly, the Starliner's problems down to a question of timing.

"If you think about what was happening, the automation of the launch vehicle was handing off to the automation of the spacecraft. In that critical time, we clearly missed something that we did not see in any of our simulations," said Steve Stich, deputy manager of NASA's commercial crew program.

Moving forward

After regaining control over the Starliner and confirming that it was in a stable configuration, NASA flight controllers contracted by Boeing were working at the Johnson Space Center in Houston on Friday to raise the spacecraft's orbit and begin diagnosing the root cause of what happened.

"What we know is that the vehicle was not on the right timer. We don't know why that was," said Jim Chilton, senior vice president of Boeing's Space and Launch Division.

The Starliner is now orbiting Earth oriented to the Sun, keeping its tail-mounted solar panels charged. All of its on board systems are operating as expected.

"The orbit we are in today, the reason we picked it, is that it allows us to return to White Sands [Missile Range in New Mexico] in 48 hours," said Chilton. "The team quite rightly said let me put the spacecraft in an orbit that I know I can control and get home — and give the engineering team the time to clearly figure out what is going on."

As of a few hours following the launch, the plan was to return the spacecraft to Earth Sunday morning, following the original landing procedures as if the Starliner had spent a week docked to the space station. The Starliner is designed to touch down on land, descending under parachutes and cushioned by airbags.

Although there are no astronauts aboard, the Starliner did launch with an anthropometric test device (ATD) instrumented to collect data about the loads on crew members during ascent and re-entry. Dressed in the same Boeing blue spacesuit that future Starliner astronauts will wear, the ATD was adorned with a red and white polka dot bandana and was named "Rosie" in honor of "Rosie the Riveter," the World War II cultural icon who represented the women working in factories and shipyards.

Assuming a successful landing, the ATD will return the data planned for the test flight. It is also possible, said Chilton, that the Starliner could accomplish additional goals from its now diverted flight to the space station, including testing its long range sensors and subsystems.

"There is probably an opportunity to practice spacecraft guidance and controls, just not at the same proximity to the space station as previously planned," he said.

Crew on board

It is too early, Bridenstine said, to know if another uncrewed orbital flight test will be needed or if Boeing can proceed with flying NASA astronauts on its next Starliner mission. It is possible, though, that had a crew been aboard this capsule, that they could have reached the space station.

"We train extensively for this type of contingency and had we been on board there could have been actions that we could have taken," said Nicole Mann, who with fellow NASA astronaut Mike Fincke and Boeing commercial astronaut (and former NASA astronaut) Chris Ferguson, are assigned to fly on the Starliner's crew flight test. "That is why you have test pilots on these early missions. That is our job and what we are trained to do."

"We are looking forward to flying on Starliner. We don't have any safety concerns," she said.

"We saw a great launch," added Fincke. "We watched the OI [orbital insertion] burn as it played out and we kind of imagined ourselves as we were on board."

"This is why we flight test. We are trying to get all of the bugs out of the system," said Fincke. "I would like to compliment Boeing. They have done an exceptional job with their different system integration labs for their avionics in Houston and in Florida to try to ring out everything. And there is always something."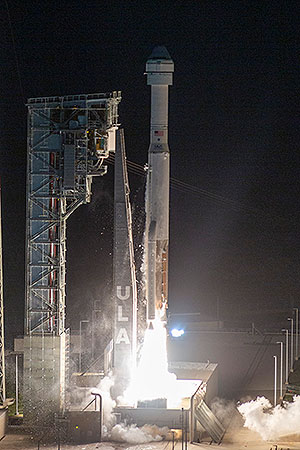 A United Launch Alliance Atlas V rocket launches with Boeing's CST-100 Starliner for the spacecraft's uncrewed orbital flight test on Friday, Dec. 20, 2019 from Launch Complex 41 at Cape Canaveral Air Force Station in Florida. (United Launch Alliance)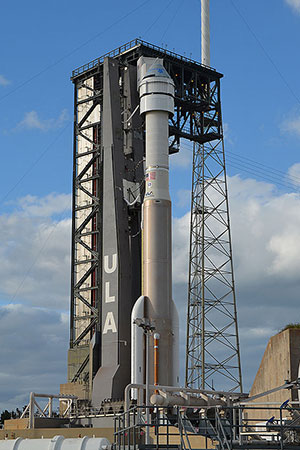 A United Launch Alliance (ULA) Atlas V rocket with Boeing's CST-100 Starliner spacecraft on board is seen ahead of the Orbital Flight Test, Thursday, Dec. 19, 2019, on Space Launch Complex 41 at Cape Canaveral Air Force Station in Florida. (collectSPACE)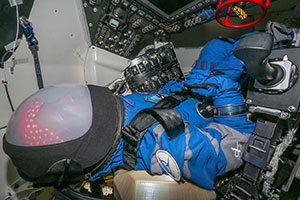 The anthropometric test device "Rosie" is seen strapped into a seat aboard the Orbital Flight Test (OFT) CST-100 Starliner. (Boeing)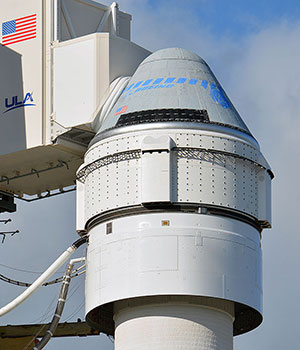 The crew access arm is seen moved into position for Boeing's CST-100 Starliner spacecraft atop a United Launch Alliance Atlas V rocket ahead of the Orbital Flight Test, Thursday, Dec. 19, 2019, at Space Launch Complex 41 at Cape Canaveral Air Force Station in Florida. (collectSPACE)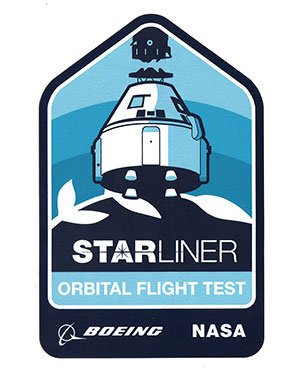 CST-100 Starliner Orbital Flight Test mission patch. (Boeing)