Dec. 16, 2015
— A watch that was flown to the moon, of the same make and model as the watches NASA issued to all of its Apollo astronauts to wear while in space, was sold by Christie's on Tuesday (Dec. 15) for nearly a quarter of a million dollars to the watchmaker's own museum.

The Speedmaster chronograph, which was mounted to an experiment before it became an astronaut's memento, sold for $245,000 to the Omega Museum in Switzerland.

"Apollo 17 astronaut Ron Evans' Omega has been sold to Omega Museum!" Omega announced on its social media accounts. "As expected for a timepiece worn on the moon (sic), it fetched the highest price ever for a Speedmaster at an Omega-themed auction at Christie's in New York."

"You can see it soon at [the] Omega Museum in Biel," the watchmaker added.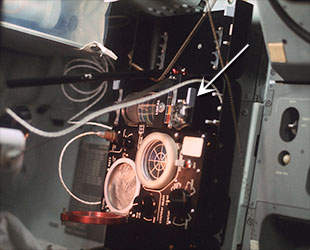 The Omega Speedmaster that flew on Apollo 17 as part of a heat flow experiment was auctioned by Christie's.
(NASA/collectSPACE)
The Speedmaster chronograph flew to the moon and back on the Apollo 17 mission 43 years ago this week. Identical to the NASA-issued chronographs that commander Gene Cernan, lunar module pilot Harrison Schmitt and Evans, as command module pilot, wore on straps on their spacesuits, the band-less watch was used with a heat flow experiment that Evans operated while orbiting the moon.

The watches the Apollo 17 astronauts wore however, were not theirs to keep. Today, they reside in the Smithsonian's collection, transferred there by NASA after Apollo ended in the 1970s, along with most of the other astronauts' Omega timepieces.

Evans though, was able to pocket the experiment's watch as a souvenir of his trip to the moon. A law passed in 2012 further confirmed that the Apollo astronauts had legal title to the flown spacecraft equipment they kept as mementos.

Evans used an engraving tool to hand inscribe the watch to reflect its mission use. He wrote, "Ron Evans / Flown in CSM / to the moon/ Apollo 17" on the caseback and "6-19 Dec 72 Heat Flow Exp" on its side.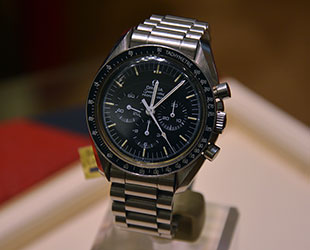 An Omega Speedmaster flown to the moon on Apollo 17 and kept by astronaut Ron Evans as a memento sold on Dec. 15 as a part of Christie's Omega Speedmaster 50 auction.
(collectSPACE)
After his death in 1990, Evans' widow held onto the watch for almost two decades before initially putting it up for sale. In 2009, the Omega sold to collector Riccardo Bernard for $23,900 at an auction in Dallas. Bernard also bid on and won Evans' flown Velcro watch strap (used with his NASA-issued Omega during a spacewalk) and a flown space pen for $11,950 and $3,226.50, respectively.

Christie's offered all three artifacts as one lot in its Omega Speedmaster 50 sale held on Tuesday. The high bid (and buyer's premium) of $245,000 is more than six times what Bernard paid for the watch, strap and pen six years ago.

The Omega Speedmaster 50 auction celebrated Omega's connection to the space program for the past half century. In addition to Evans' flown watch, the sale also offered the 18-karat gold Speedmaster Omega gifted Evans as part of a presentation to all of the Apollo astronauts. The rare gold watch sold for $50,000.

Another highlight lot was a later edition Speedmaster that was flown on the Russian space station Mir for a full year. The watch, which was inscribed on its back, "365 Days On Board Space Station Mir," sold for $25,000.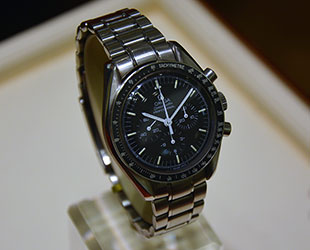 One of only 28 stainless steel Omega Speedmaster watches flown on the Russian space station Mir for a full year.
(collectSPACE)
At least two other astronauts' flown Omega Speedmaster chronographs have been sold in past auctions. The watch worn by Edward White, the first American to walk in space, was presented to his widow after he died in a 1967 pad fire while preparing to launch on the first Apollo mission. The Speedmaster was inherited by White's son, who sold it for $35,500 in 1999.

Eight years later, Sotheby's sold one of Donn Eisele's two Speedmaster watches that he wore on Apollo 7 in 1968 for $204,000. (Eisele's other Speedmaster was on loan by the Smithsonian in Ecuador when it went missing in 1989.)

Another moon watch, Apollo 15 commander David Scott's personal backup Bulova chronograph that he wore on the lunar surface, was sold for $1.625 million in October. It is believed to be the most ever paid for an astronaut's flown memento.

The Omega Museum, in addition to now owning the Evans Apollo 17 Speedmaster, exhibits one other watch flown to the moon. The museum displays Richard Gordon's Omega Speedmaster worn in lunar orbit on Apollo 12 as loaned by the Smithsonian.