December 14, 2015
— Forty-three years after he became the last man on the moon, Gene Cernan now has a launch date in movie theaters.

Cernan, who as commander of NASA's Apollo 17 mission took the last — or at least most recent — step off the lunar surface on Dec. 14, 1972, recounts his journey in his own words in "The Last Man on the Moon," a new documentary opening on U.S. screens on Feb. 26, 2016.

"This film is the story of a boy from 'Any Town USA' who grew up in a family of modest means and with a seemingly impossible dream to fly," said Cernan, commenting on the film's upcoming release. "As fate would have it, I lived that dream, becoming a Naval Aviator, which in turn gave me the opportunity to call the moon my home."

Produced by Mark Stewart Productions, "The Last Man on the Moon" was five years in the making. The documentary features a wealth of rarely-seen archival footage and takes Cernan back to the launch pad at NASA's Kennedy Space Center, to Arlington National Cemetery, and to his ranch in Texas where "he has tried to find respite from a past that refuses to let him go."


The film features exclusive interviews with Cernan's fellow astronauts, including Apollo 12 crew members Alan Bean and Dick Gordon, and Apollo 13 commander Jim Lovell, as well as veteran flight director Gene Kranz and Chris Kraft, who founded Mission Control.

"It's forty-three years ago that Gene Cernan stepped onto the surface of the moon and it's tough to think of a present day American hero who can match up to him," said Mark Stewart, "The Last Man on the Moon" executive producer and distributor. "Gene grew up in exceptional times — and exceptional times produce exceptional men, but real life is never that simple."

"This film is Gene's story — and we hope that it will inspire people as much as it inspired us," Stewart said.

"The Last Man on the Moon" has already been screened in the United Kingdom and at select venues across the U.S. The documentary earlier made its formal U.S. debut at the 2015 South by Southwest (SXSW) film festival in Austin, Texas.

Two additional premieres are planned for Washington D.C. and Houston in the days leading up to the release of the film.

The movie will also be distributed across digital platforms on the same day it hits theaters.

"'The Last Man on the Moon' is a thrilling testimony of Gene Cernan's life and its immeasurable impact on the nation and those around him," said Nolan Gallagher, the founder and chief executive officer of Gravitas Ventures, which is handling the digital and Video on Demand (VOD) release of the film. "Director Mark Craig has delivered a riveting documentary that will enthrall the adventurer and leader within all of us."

"It's been a privilege to work with such a charismatic and historical figure as Gene Cernan," said Craig. "Many films have been made about space and going to the moon, and so I knew we'd have to venture both deeper and bigger than ever before — both in human terms and as creative documentary for the big screen."

"I'm very proud of what we've done with the film, and hope that audiences will be both gripped and moved by his epic story," he said.

Cernan is one of only three astronauts in history to have flown to the moon twice. In addition to commanding Apollo 17, the last of six lunar landing missions, Cernan flew as lunar module pilot on Apollo 10, the dress rehearsal for the first moon landing, Apollo 11, in 1969. Cernan also flew on Gemini 9A in 1966, during which he became the second American to walk in space.

A retired Navy Captain, Cernan in recent years has been an advocate for returning humans to the moon and on to Mars while engaging today's youth in space exploration.

"I do hope people will enjoy the film, but far more important to me is my desire to inspire the passion in the hearts and minds of future generations of young men and women to see their own impossible dreams become a reality," stated Cernan.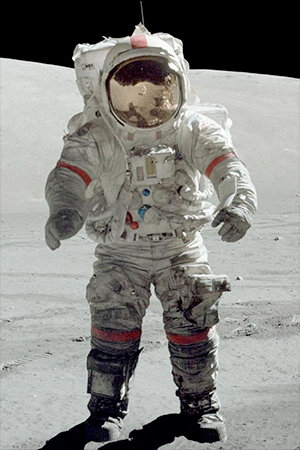 Gene Cernan, commander of the last moon landing, tells his story in the new documentary, "The Last Man on the Moon." (NASA)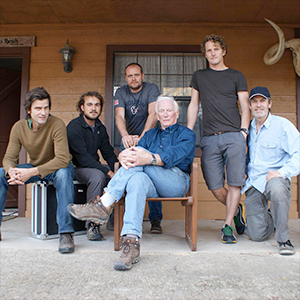 Gene Cernan (center) with "The Last Man on the Moon" film crew at his ranch in Texas. (Mark Stewart Productions)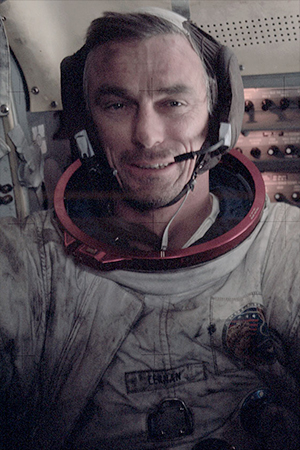 Gene Cernan seen inside the Apollo 17 lunar module after his last of three moonwalks on Dec. 14, 1972. (NASA)