December 13, 2017
— America's first woman in space will become the second NASA astronaut to be honored with a United States postage stamp in 2018.

Sally Ride, who made history launching aboard the space shuttle Challenger in June 1983, will be depicted on a U.S. Postal Service (USPS) stamp. A preliminary design for the commemorative shows a painted portrait of Ride from the time of her first spaceflight set against the partial backdrop of the space shuttle lifting off.

"Sally Ride inspired the nation as a pioneering astronaut, brilliant physicist and dedicated educator," the USPS said in a press release previewing more than 20 of its planned stamps on Tuesday (Dec. 12). The USPS did not state the dates next year when the stamps would be issued.

Another of the 2018 stamps employs the outline of NASA's Apollo spacecraft in a collage symbolizing "Engineering" in a four-stamp set dedicated to STEM (science, technology, engineering and mathematics) education — a cause Ride championed in her years following her two space missions and leaving NASA.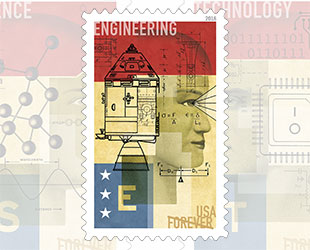 One of four stamps in the USPS's 2018 "STEM Education" set uses an Apollo spacecraft to represent engineering.
(USPS)
"As a young girl, Sally collected stamps. She would be so honored to now appear on a stamp!" Tam O'Shaughnessy, Ride's life partner, said in a statement issued by Sally Ride Science, a non-profit Ride and O'Shaughnessy co-founded to promote learning and careers in STEM.

"It was a great pleasure working with the Postal Service on the Sally Ride commemorative stamp," she added.

The Sally Ride stamp's release comes five years after her death in 2012. Criteria set by the Citizens' Stamp Advisory Committee, the group that recommends stamp subjects to the USPS, precludes living individuals from being honored on U.S. postage stamps.

Ride is the second U.S. astronaut to be commemorated on a USPS stamp. In May 2011, the postal service released a stamp depicting the late Alan Shepard, the first American to fly in space and the fifth human to walk on the moon.

Shepard's commemorative was issued as part of a pane of two stamps, the second celebrating NASA's MESSENGER spacecraft as the first to orbit the planet Mercury. Shepard was one of the original seven Mercury astronauts selected in 1959.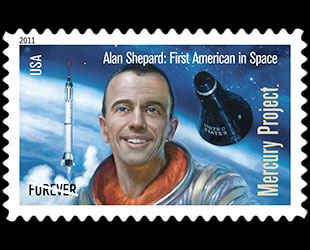 Alan Shepard, the first American to fly into space, became the first NASA astronaut to be honored with a USPS stamp in 2011.
(USPS)
Ride was chosen to be an astronaut in 1978 alongside five other women in NASA's first class of candidates to include female trainees. As a mission specialist assigned to STS-7, the second flight of the space shuttle Challenger, Ride became the first U.S. woman in space. (She was preceded into orbit by two Soviet cosmonauts: Valentina Tereshkova in 1963 and Svetlana Savitskaya in 1982.)

Ride and her four crewmates deployed two communication satellites and carried out experiments over their six days in space.

Ride's second mission, STS-41G, also aboard Challenger, deployed the Earth Radiation Budget Satellite, conducted observations of Earth and demonstrated potential satellite refueling techniques. It also marked the first time that two women flew in space together; Kathy Sullivan joined Ride as part of the crew.

In total, Ride logged 14 days and 8 hours in space, circling the Earth 230 times.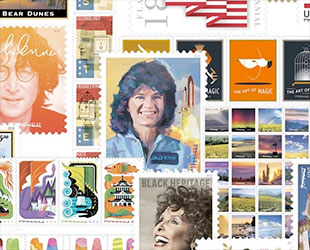 The Sally Ride stamp among other USPS 2018 stamps.
(USPS)
After retiring from NASA in 1987, Ride went on to become a professor of physics at the University of California, San Diego, and authored several science books for children.

In addition to the 2018 postage stamp, Ride has received several posthumous honors, including the christening of a U.S. naval research ship in her name; the awarding of the Presidential Medal of Freedom, the nation's highest civilian honor; the naming of a NASA spacecraft impact site on the moon; and last month, her inclusion in a new set of LEGO minifigures celebrating the "Women of NASA."