First Look: Code 3's Mars Rover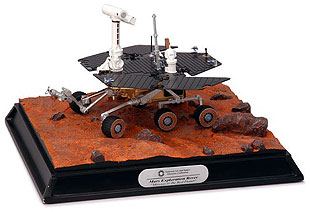 December 12, 2003 — Just about the same time two identical NASA rovers arrive at Mars this January, Code 3 Collectibles will be launching their own "Mission to the Red Planet" as part of their National Air and Space Museum Collection.

Code 3 Collectibles' Mars Exploration Rover is a 1/10th scale reproduction of the twin "Spirit" and "Opportunity" robotic geologists that will explore two different areas on Mars after landing on January 3rd and 24th respectfully.

The 6.5 by 9 by 6 inch model features moveable solar panels and detailed replicas of the rovers' instruments, including the UHF, high and low gain antennae, pancam mast assembly, and robotic arm (also known as the instrument deployment device). Produced in collaboration with the Jet Propulsion Laboratory, NASA and JPL logos appear in the same places as they do on the real craft.

A Martian "surface" base completes the model providing a means of display for the scale rover.

Code 3 Collectibles is taking orders for the rover at $150 each beginning on December 18.



Click on image thumbnails to view full size pictures.



© 2023 collectSPACE.com All rights reserved.
Questions? E-mail contact@collectspace.com