STS-116 Milestone Gallery:
Night light! Bright start to STS-116 mission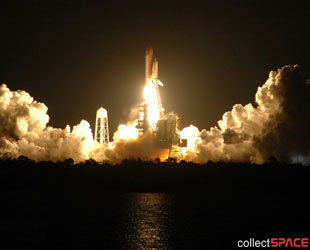 Discovery launches from Pad 39B. More photographs below.


December 9, 2006 — Space Shuttle Discovery lit up the night sky Saturday evening as it soared to orbit with the crew of STS-116, marking the shuttle's first night launch since 2002. The mission's seven astronauts, including a new crew member for the station, will work to reconfigure electrical power and cooling systems, as well as transfer supplies from a Spacehab module stowed in Discovery's payload bay.

"We look forward to lighting up the night sky and rewiring the ISS," commander Mark Polansky radioed controllers moments before launching. "You're all going to be with us going into orbit."



Click on thumbnails to enlarge



Ground controllers will shutdown and reroute the station's power in stages so that the astronauts can reconfigure the power system and make the solar arrays delivered during the last mission fully operational. This complex operation has never been done before. Part of an existing solar panel will be retracted to allow the arrays to track the sun a full 360 degrees and provide power to the rest of the station.

During the 12-day mission, the astronauts will also install a new structural component to the station: the P5 truss. This latest addition to the ISS's backbone weighs 4,000 pounds and will extend the left side of the truss to allow future solar panels to rotate.



Click on thumbnails to enlarge



The 7:37 p.m. CST launch from Kennedy Space Center's Pad 39B was the 33rd for orbiter Discovery and the 117th for the shuttle program. STS-116 is the 20th shuttle to go to the space station.

Tonight also marked the final planned shuttle mission to launch from Pad 39B. NASA plans to use Pad 39A for all remaining shuttle flights but will reserve use of 39B in the case that an emergency mission is needed for STS-125, the final Hubble Space Telescope servicing mission, now set for summer 2008.

STS-116 was the 53rd shuttle mission to liftoff from 39B since January 1986 when the ill-fated Challenger mission STS-51L inaugurated its use by the shuttle program.



Click on thumbnails to enlarge



The STS-116 crew includes Polansky, pilot Bill Oefelein, Bob Curbeam, Joan Higginbotham, Nicholas Patrick and Christer Fuglesang, the first Swedish ESA astronaut.

The station's newest resident is also riding on Discovery. Sunita Williams joins the Expedition 14 crew, replacing Thomas Reiter, an ESA astronaut who has been aboard the ISS since July and who will return with the STS-116 crew. Williams is scheduled to spend six months on the space station.

© 2022 collectSPACE.com All rights reserved.
Questions? E-mail contact@collectspace.com