Dec. 7, 2017
– A German company aiming to send robotic rovers on the first mission to return to the last Apollo moon landing site has pledged to respect and protect the historic artifacts present there.

PTScientists announced it has entered a partnership with For All Moonkind, an organization that is advocating for the preservation of human heritage in space. The news of the partnership was timed to mark the 45th anniversary of the launch of NASA's Apollo 17 mission on Thursday (Dec. 7).

"Apollo 17 marked the end of one chapter of exploration, but as we enter a new era of private exploration I want to create a new 'Apollo moment' to inspire a new generation of explorers, engineers and scientists," Robert Boehme, founder and CEO of PTScientists, said in a statement. "We want to visit the Apollo 17 site, not just to celebrate human achievement, but also to continue scientific learning."

For its first lunar mission, dubbed "Mission to the Moon," PTScientists aims to send two of its Audi-sponsored lunar quattro rovers to the moon's Taurus-Littrow Valley. One of the rovers will be used to approach the site of the Apollo 17 lunar roving vehicle.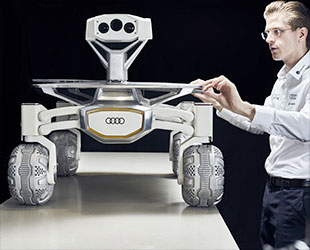 PTScientists' Robert Boehme with the Audi lunar quattro.
(Audi)
PTScientists plans to capture high-definition imagery of the Apollo 17 lunar rover, providing a first close-up look at how the moon buggy has fared since it was left on the surface by Harrison Schmitt and the late Eugene Cernan in 1972. "Mission to the Moon" is slated to launch in 2019, 50 years after the first moon landing by the Apollo 11 crew.

The company announced in November 2016 it had signed a launch contract with Spaceflight Industries, a broker for secondary payloads on a number of launch vehicles.

Prior to aligning itself with For All Moonkind, PTScientists worked with NASA engineers to ensure its "Mission to the Moon" does not pose a threat to damage the condition of the Apollo 17 landing site. According to the company, this experience identified the need for a wider conversation on protection and preservation of the site, and how it should be covered in a formal legal framework to protect all of the human heritage sites in outer space for future generations.

For All Moonkind is working to develop and implement a binding international law to manage the preservation and protection of humanity's heritage in outer space, beginning with the Apollo landing sites.

"Each of the Apollo lunar landing and similar sites in outer space, including, for example, Russia's Luna sites, are a fundamental part of our human heritage" Michelle Hanlon, co-founder of For All Moonkind, said in a statement. "They mark an achievement unparalleled in human history, and one that is common to all humankind."

"The [sites] also hold valuable scientific and archaeological information and serve as poignant memorials to all those who work, and have worked in the past, to evolve humans into a spacefaring species," she added. "In short, they are unique and irreplaceable cultural and scientific resources. And they must be protected from intentional or accidental disturbance or desecration."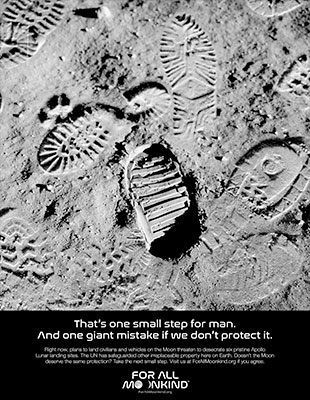 For All Moonkind advertiement advocating for the protection of the Apollo landing sites and other human heritage in space.
(Audi)
PTScientists is one of the first private space companies to support the For All Moonkind initiative. The Berlin-based company has endorsed the organization's mission and is helping to spearhead an effort to involve all organizations in the space sector to sign a binding pledge to respect the lunar landing sites and all other human heritage in space.

"We are very grateful for the support of PTScientists," said Hanlon. "They understand that our return to the moon is based on a deep, rich and shared history — one that must be preserved to guide into this new frontier."

A former entrant in the Google Lunar XPrize, PTScientists is one of several international companies actively working to send commercial robotic rovers to the lunar surface.

"The original space race was dominated by two countries, but today the competition between private companies is just as intense," stated Boehme. "I hope we all share one overriding goal: to make space accessible to all humanity."

"As we take the next giant leap, we must be careful not to trample on the footsteps of those that came before us," he added. "As space fans ourselves, PTScientists is happy to support For All Moonkind and its mission to preserve our human heritage."

Disclosure: Robert Pearlman, collectSPACE editor and the author of this article, serves on For All Moonkind's board.