December 6, 2013
— It is that time of year again, when you need to find a gift for that 'spacial' person in your life — your favorite space geek.
Fear not, you needn't purchase your aspiring astronaut a ticket to space for your present to be truly out-of-this-world (though, with Virgin Galactic planning to begin commercial space shots in 2014, this may be the last holiday season for advanced reservations).
Apollo 15 moon voyager Al Worden has already offered up one possibility — a museum-quality
replica of his iconic NASA blue flight jacket
. Space couture is always in style, but if you are seeking something a little less astronomical (the custom-fit jackets cost £450, or about $750), here are five gift ideas that are sure to launch your space geek's spirits sky high.
Spend the year in space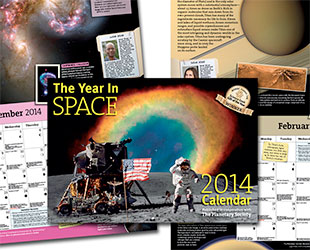 The Year in Space 2014 wall calendar. (yearinspace.com)
In 2015, NASA and Roscosmos will launch an astronaut and cosmonaut on the
first yearlong expedition
aboard the International Space Station. But Earth is already in orbit, so you can kick-off the next 12 months with the 2014 The Year In Space wall calendar!
Produced in cooperation with The Planetary Society and featuring an introduction by Bill Nye, "The Science Guy," The Year in Space large-format (16 by 22 inches, 40 by 56 cm) wall calendar includes more than 120 cosmic images, daily moon phases, hundreds of space history dates and a monthly mini-biography of a famous astronomer, scientist or astronaut.
If your space guy or gal is more on the move, The Year in Space also comes as a 144-page desk calendar featuring 53 full-page space photos and the same daily space facts as the wall version.
The Year in Space Calendar – $12.95 – yearinspace.com
There be Dragons (and Falcons)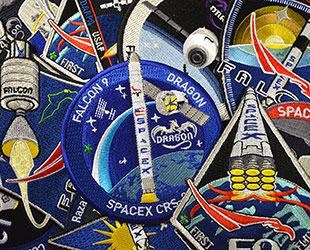 SpaceX Falcon and Dragon embroidered mission patches. (cS)
SpaceX, the private spaceflight company founded by Elon Musk, delighted its fans last year by releasing a
souvenir set of mission patches
for its Falcon rocket launches and Dragon cargo spacecraft.
Limited to only 200 sets, the 2012 patch collection sold out almost immediately, leading to the sky-rocketing sales on eBay and elsewhere.
Now, coinciding with their latest launch, the first to deploy a satellite into a geosynchronous transfer orbit, SpaceX has premiered its 2013 patch collection, including the nine emblems that were part of last year's set and three more for this year's flights. And, as of press time, they were still in stock (but temporarily unavailable as SpaceX resolves a technical issue with its website).
SpaceX Patch Collection – $20.00 – shop.spacex.com
Visions of vehicles past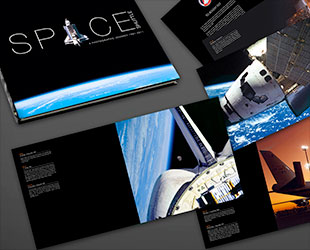 "Space Shuttle: A Photographic Journey" (spaceshuttlebook.com)
For 30 years, NASA's space shuttles represented human spaceflight, not just in the U.S., but for the many nations who had astronauts fly aboard the orbiters, as well launch science experiments and satellites. The shuttles' crowning achievements, the Hubble Telescope and the
International Space Station
, continue on as testaments to the reusable fleet's legacy.
British graphic artist Luke Wesley Price has captured the iconic nature of NASA's Space Transportation System in "Space Shuttle: A Photographic Journey, 1981-2011," his stunning 240-page coffee table-style book first released in October.
"By the time you have the chance to read this book, the space shuttle program will be no more than a memory," Price writes. "My mission is to make sure it's not a distant one."
Featuring photos carefully selected from NASA's archives, "Space Shuttle" launches a new and spectacular look at the space shuttles' missions — from liftoff to landing. The first edition and limited edition run are available, each with a print run if 1,981 copies.
"Space Shuttle" – $59.00 (LE) – spaceshuttlebook.com
Grow your rocket garden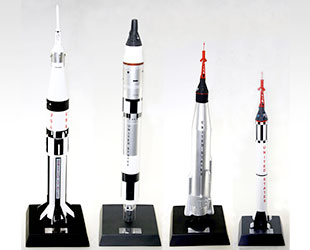 Rocket Garden Rockets desktop models. (toysandmodels.com)
Late last year, the Kennedy Space Center Visitor Complex in Florida debuted its new entranceway, which has guests walking through
the park's Rocket Garden
and its towering collection of early U.S. boosters.
The new experience called for a new set of scale models replicating four of the garden's most popular rockets. Toys and Models Corporation, which for years has produced the wooden spacecraft seen in NASA press conferences and gift shops alike, spent 14 months developing the "Rocket Garden Rockets" set of four desktop models.
Included in the set, which are also offered separately, are 1:72 scale versions of NASA's Mercury-Redstone rocket, Mercury-Atlas booster and Gemini-Titan rocket. The quad is completed by a 1:144 scale Apollo-Saturn IB. The scale models stand between 14 and 19.5 inches tall (36 and 50 cm).
Rocket Garden Rockets – $540.00 – toysandmodels.com
Flown on a space shuttle mission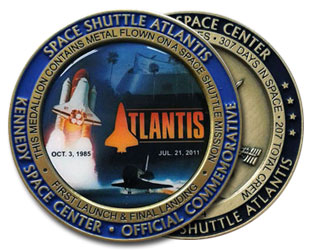 Space Shuttle Atlantis comemmorative medallion. (Winco/cS)
As space gifts go, few can beat what has actually been to the final frontier — or was made from metal taken there.
The first in a planned series of commemoratives minted in part from metal "flown on a space shuttle mission," the Kennedy Space Center's Space Shuttle Atlantis medallion celebrates the legacy of the last orbiter to fly in space and the last to go on public display (
Atlantis opened on exhibit
at the Kennedy Space Center Visitor Complex in June).
Created by Winco International for NASA, the medal has a color obverse (front) featuring Atlantis' first launch and last landing, as well as the logo of its new exhibit. The medal's reverse displays the orbiter in raised form, flying in orbit at the same angle as the real Atlantis is displayed in Florida.
Additional medallions celebrating the legacies of the other
retired shuttles and their museum displays
are currently in the works.
Shuttle Atlantis medallion – $12.99 – thespaceshop.com