Dec. 5, 2014
— In a scene reminiscent of the early Apollo program, three red and white-striped parachutes lowered a NASA space capsule to a splashdown on Friday (Dec. 5), bringing to an end an uncrewed test flight that reached an altitude last achieved by the moon missions.

NASA's new Orion capsule completed its first spaceflight, called Exploration Flight Test-1 (EFT-1), four hours and 24 minutes after launching on a United Launch Alliance (ULA) Delta 4 Heavy rocket from the Cape Canaveral Air Force Station in Florida. The Orion spacecraft splashed down at 11:29 a.m. EST (1629 GMT) at 23.6 degrees north latitude by 116.46 degrees west longitude, about 275 miles (445 kilometers) west of Baja, California in the Pacific Ocean.

"Today's flight test of Orion is a huge step for NASA and a really critical part of our work to pioneer deep space on our journey to Mars. The teams did a tremendous job putting the Orion through its paces in the real environment it will endure as we push the boundary of human exploration in the coming years," Charles Bolden, NASA's Administrator, said in a statement.

Flawless flight

"We challenged our best and brightest to continue to lead in space," Mike Sarafin, NASA's EFT-1 flight director, said as the mission came to an end and he signed off from his console at the control center in Houston. "While this was an unmanned mission, we were all onboard Orion."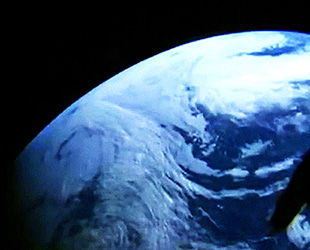 A camera in the window of NASA's Orion spacecraft looks back at Earth during its unpiloted flight test in orbit.
(NASA TV)
Cameras on the Orion – which delivered stunning views of the Earth below during the flight – and an unmanned aerial system (UAS, or drone) provided live images and video of the descending capsule as it deployed its parachutes. The Ikhana UAS, which was remotely piloted from NASA's Neil A. Armstrong Flight Research Center in California, caught sight of the capsule during the final minutes of the EFT-1 mission.

"There's your new spacecraft, America," said Rob Navias, a NASA spokesperson who provided running commentary during the flight from Mission Control.

The Orion's re-entry and splashdown served to underscore the success of one of the mission's primary goals: testing the Orion's 16.5-foot (5-meter) heat shield, the largest ever built. Overall, the test flight was described as "stable" and "flawless."

"Every single system on this spacecraft functioned by the book, from start to finish," said Navias.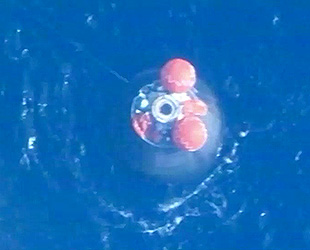 An overhead view of NASA's Orion capsule shows that two of its righting bags deflated or did not inflate after splashdown.
(NASA)
The Orion did experience a few minor problems during the flight, although they did not interfere with the mission. An on board video processing unit reset a few times, possibly due to radiation exposure, and two uprighting balloons did not inflate after splashdown. The latter, used to ensure the capsule sat upwards, was not needed as it landed with its heat shield down.

Twice around then down

During EFT-1, the Orion flew twice around the Earth, rising on its second orbit to a peak altitude of 3,604.2 miles high (5,800.4 kilometers) – an apogee 14 times farther out than the International Space Station — before plummeting back to the planet. The space capsule's trajectory exposed it to high levels of radiation while flying through the Van Allen radiation belts and to intense heating during its reentry into the atmosphere, equal to 80 percent of the temperatures encountered on a return trip from the moon.

The Orion's descent was helped by eight parachutes. The spacecraft deployed two drogue parachutes at 22,000 feet (6,700 meters), slowing it from about 300 to 100 miles per hour (480 to 160 kph). The drogues were followed by three pilot chutes that were used to pull out the three red and white main parachutes at about 6,500 feet (2,000 meters) above the ocean. The mains finished the job, lowering the capsule to the surface at a speed of less than 17 mph (27 kph).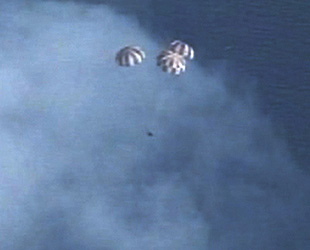 NASA's Orion capsule is seen from an remotely-piloted drone as it descends under three red and white main parachutes.
(NASA)
Staged nearby to recover the Orion were the U.S. Navy's amphibious ship, the U.S.S. Anchorage, and salvage ship, the USNS Salvor. Navy divers were deployed to check the capsule for any hazards before helping to guide it into the Anchorage's well deck for its two-day trip back to shore.

The Salvor worked on the retrieval of the main parachutes. Two of the three large parachutes were able to recovered. The capsule's forward bay cover also sank before it could be reached by the ship.

Return to the launch site

Once back at Naval Base San Diego, the EFT-1 Orion will undergo an initial inspection of its heat shield and have its data recorders removed before being loaded onto a truck for its return to NASA's Kennedy Space Center in Florida. In place of a crew, the capsule carried 1,200 sensors, as well as several bags of mementos, which will be unpacked after the cross-country road trip.

The EFT-1 Orion will then be inspected and refurbished for reuse on another test flight. The spacecraft will be paired with a fully-active launch abort system and mounted atop a Peacekeeper missile stage for the Ascent Abort 2 test flight planned for 2018.

Meanwhile, data collected during the EFT-1 mission will go toward shaping the next space-bound Orion, targeted to also fly an unmanned test flight in 2018. The first manned Orion flight is expected to follow in 2021.

"We really pushed Orion as much as we could to give us real data that we can use to improve Orion's design going forward," NASA's Orion manager Mark Geyer said. "In the coming weeks and months we will be taking a look at that invaluable information and applying lessons learned to the next Orion spacecraft already in production."